Vertigo Panel: Paradise Comics Toronto Comicon 2007
By Avi Weinryb
June 29, 2007 - 08:30
Admittedly, this report is arriving a little late. Sorry about the delay. It had to be re-typed from my notes after a terrible bout of data corruption:
Before slipping into her Power Girl costume, Liana K took a moment to introduce DC/Vertigo editor Shelly Bond to the assembled fans. Special guest Cecil Castellucci ( The Plain Janes) was present to discuss her proud association with the new Minx line of books. She told everyone how happy she was to be there and after a few minutes of introducing the upcoming Minx titles, Bond regained the reins and barreled forward with her presentation.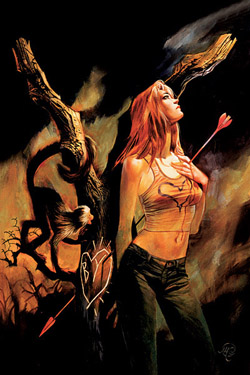 Y: The Last Man #57, cover art

Unlike last month's Bristol Comics Expo, the Toronto Vertigo panel was sorely lacking in the news (and guest) department. It was largely a rehash of previous announcements and basic solicitations. No hot exclusive tidbits. Those are being saved for the San-Diego con, as Bond stated when discussing some unspeakable news regarding Bill Willingham. If I only knew!

Running through some upcoming titles with Shelly Bond was fun because of her enthusiasm and the audience interaction. She often stopped to ask if there were any fans of a particular series and hands would shoot up. At another convention there would have been hoots and hollers, but when you ask a crowd of Canadians if they approve of the current Y: The Last Man storyline, you get politely raised hands.

A rundown of the info shared with the audience regarding upcoming titles:

- Vinyl Underground – Si Spencer's first 'big breakout' book was announced last month. Occult detectives led by a C-list celebrity. It's a rag-tag team of crime solvers! In London !

- Hellblazer – The humour is making a comeback. Bond is loving Diggle's handling of the title. Issue #234 will feature a preview of The Un-Men. More on that in a moment…

- Y: The Last Man – No news here. It's coming to an end and Bond is sad to see it go. Loyal followers of the series feel the same way.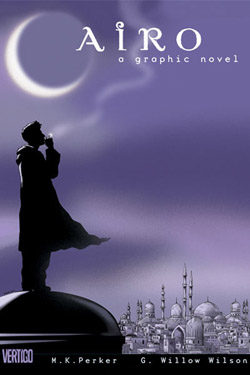 Cairo cover art

- Fables – Bond is happy with all the Eisner nominations Willingham has received. She's a big fan of his work. The book will soon briefly link up with Jack of Fables. No explanation on how that will work due to the time difference between the narratives.

- Crossing , Testament, DMZ, American Virgin, Sentences – No new tidbits. Just the basic solicitation-speak you can find anywhere.

- The Exterminators – This has proven to be a real fan-favourite. Editor Bond is pleased.

- Northlanders – The new monthly by Brian Wood. The world needs more Viking books.

- Army @ Love – Issue #6 will offer a peek at what our society may be like in the future. I'm not sure what that means, but it's a smart series so I'll give Ms. Bond the benefit of the doubt.

- Faker – Sometimes a book idea comes out of a conversation, says Bond. What if one day you woke up and you had a friend you had never met before? That's the premise.

- The Un-Men – These figures from Swamp Thing get their own series. The Swamp Thing legacy lives on at Vertigo! Written by John Whalen and illustrated by Mike Hawthorne. Starts in August, I believe.

- Silverfish – David Lapham's book is a thrill for Bond to edit. It will "leave you breathless" she gushed, before declaring that the art is so intense that it seems as if someone held a gun to Lapham's head as he drew it.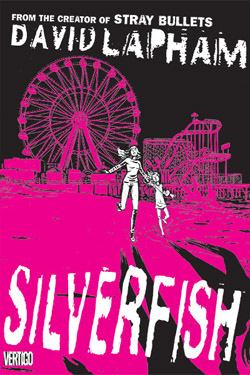 Silverfish cover art

- Sentences – An original graphic novel from R&B artist M.F. Grimm. It will provide a behind-the-scene look at the Hip Hop scene while chronicling the life of the author. If you 'Google' the author's name, you will find that he has lived an extraordinary life. This book promises to be a knockout.

It was at this point that Bond revealed a special guest – DC editor Joan Hilty! Upon leaping from the audience, Hilty joined the panel and began dishing on the upcoming title, Cairo . It is an original graphic novel by journalist G. Willow Wilson and artist M.K. Perker. It features a wide range of characters being brought together by the allure of a mystical hookah pipe. The book contains "robust art" and should hit shelves in November.

After the book pushing, the audience got a chance to fire some questions at the panel. I have distilled the more newsworthy answers down into easily digestible chunks for readers with short attention spans:

Will Bill Willingham ever finish ' Coventry ' at Vertigo? One Day.

Any more 'Fables' minis? Vertigo tries to schedule a special Fables project every year. There will be a big announcement at San-Diego.

How do Vertigo and DC go about sharing characters? It depends on what characters are popular with each audience. Also depends thematically on what a writer wants to do with a character.

Coming sooner rather than later: Photos from the con.

___________________
Last Updated: June 23, 2021 - 00:29