Comics / Comic Reviews / More Comics
Vampirella: The Second Coming #1 (of 4)
By Andy Frisk
September 13, 2009 - 17:44
Taking place a year after the events of Vampirella's last appearance in a Harris Comic, Vengeance of Vampirella: Return of The Blood Red Queen, her new series, Vampirella: The Second Coming, opens with its protagonist, Kelly Witten, a Georgetown Law graduate who works for Trinidad Women's Resource Action Center, watching a viral video of what appears to be Vampirella's last stand. Her husband Frank, a project engineer who is helping to rebuild Washington DC's underground transit system, which was partially destroyed in Vengeance of Vampirella, declares the video to be "totally fake." Kelly, though, can't seem to deny the incredible pull the video is having over her, and just how, "it really got under her skin." In fact, she sees representations of the pop culture vampiric vixen every where she looks, from the spray painted .V. symbols on Washington's interstate overpasses, to the "Vampi" tattoo on her most recent case, Amber. Amber is trying to get Kelly to help her further, and perhaps illegally, retain custody of her small child. When Kelly needs to clear her head and get some air after hearing all about Amber's fixation on Vampirella, the "myth…cartoon character," and "some sort of viral image," Kelly discovers that she has a closer tie to Vampirella, "the internet meme" than she thought…Meanwhile, her husband falls victim to the demonic influence of Mr. Gore, "the captain" of a group of "long suffering subjects" from a "dimension ruled by cruel gods of violence and perversion" (or in other words, a bunch of demons from Hell).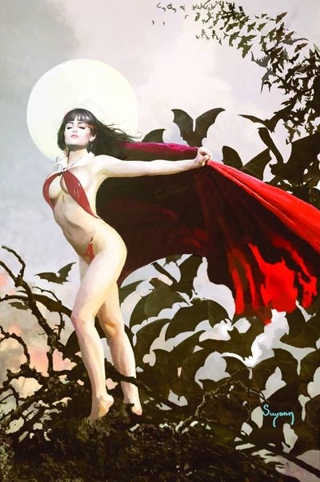 Arthur Suydam's cover.
Writer Phil Hester takes Vampirella into unknown territory, playing with the real life pop cultural phenomenon that is Vampirella, the instantly recognizable pinup, and the fictional sexy vampire hero/antihero that is Vampirella the comic book character. Vampirella is nearly as recognizable as other cartoon vamps or iconic pinup girls such as Betty Boop and Betty Page. Hester, being fully aware of this fact, uses Vampirella's pop culture recognizability as a plot device and vehicle for her fictional "rebirth." It's as if all of the Vampirella viral videos, tattoos and graffiti markings are all harbingers of her imminent birth and transformation from pop icon to real being, in the context of Hester's developing story. It's an interesting, and new, take on the character. It shows the promise of breathing life into an old idea and making it new. Vampirella, in Vampirella: The Second Coming isn't "real," but just might be more than an image, and just may manifest or be reborn in a very different way than other classical "vampire" characters are, and with a recognizable, yet different look…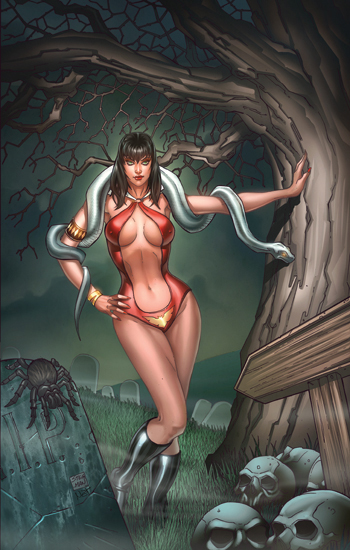 Ryan Stegman's cover.
Daniel Sampere is a capable artist, worth of being charged with Vampirella's second coming. Honestly, all a sucessful Vampirella artist must be a master of is the female anatomy, and Sampere is, but he manages to recreate other ghoulish sights fitting a Vampirella comic book tale. While Sampere's proportional renderings of anatomy are a bit off (and no, I'm not just referring to Vampirella's well endowed anatomical "proportions"), he does nail down the look and feel of average, and above average, looking humans. His demons, particularly Mr. Gore, are quite gory and gruesome in appearance, and will prove to be worthy, and fittingly grotesque, adversaries for Vampirella.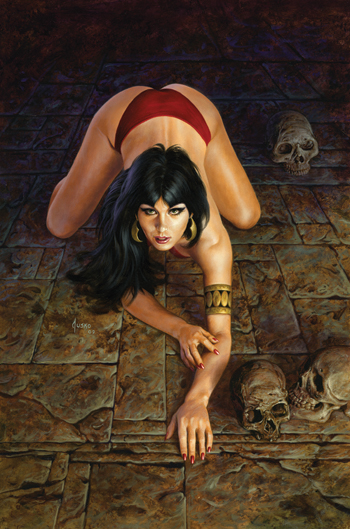 Joe Jusko's cover.
Overall, Vampirella: The Second Coming looks to be more than just an eye candy book. There's an interesting story brewing here. Of course, a beautiful, voluptuous, and basically naked vampire woman, who is arguably the world's most recognizable female vampire character, will sell this book, but the story just might end up being what keeps readers coming back.

Rating: 8 /10
Last Updated: June 23, 2021 - 00:45