Thor Tales of Asgard
By Hervé St-Louis
July 19, 2011 - 23:03
A young Thor embarks with his young brother Loki on an adventure with some of Asgard's biggest braggers and partiers in the land of the Frost Giants. Doing so they break the shaky truce between Asgard and the land of the Frost Giant and ready the two kingdoms for war. Will Thor be able to avert war and return the sword he stole from the Frost Giant?
This direct to home theatre release was scheduled just before Marvel's Thor movie. The story is not in the same continuity but borrows elements from a similar Marvel Comics' series about a younger Thor. But this is Marvel Comics' Thor so the mythology as it is currently built is the same as in the 2011 movie, although the story is not a real prequel.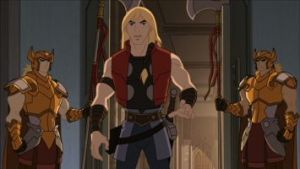 Thor offers the grounds for such untold stories to be told and here, the production team used that to their advantage. The story however, does not feel as grandiose. The problem is the animation. Although much was written about its quality, it's still feel like a full 15 frames per second was not used on this project. Some moment feel jerky and although the character designs are interesting, they feel way too much like a Saturday morning cartoon. On a direct to home release, the animation should be at least on par with something from a movie release. Although the background designs was extensive, it is easily overpowered by the strong colours. Details in the architecture of Asgard are lost to the viewer and only discovered when watching the full extras on the disc. The music score was not as great either. It was not bad at all, but nothing that one would remember months later. In effect, this is a story about Thor as he would look like if he had his own television series on Saturday mornings.
Thor is brash here and there are many hints to many of Asgard's lore, such as cameos by the future Enchantress. This is a coming of age story about Thor, but also about Loki. I would argue that the most interesting part of this film is Loki and how he discovers he's a Frost Giant. In the climax scene, it's Loki who steals the show and not Thor. Thor, to me felt quite different from the character I know and recognize. The one from Marvel's film felt the same as in the comic books, but the one in Tales of Asgard didn't quite have the same nobility. I'm not sure if it's because of his age in the film or something else. Thor Tales of Asgard is a good release that could set up a whole universe worth exploring for Thor, should sales of this foundational story are popular enough to warrant a follow up. I recommend it to more than Thor fans. Anyone looking for a good animated film should seek it out.
Rating: 8 /10
Last Updated: April 9, 2021 - 22:22