Comics / Comic Reviews / More Comics
The Gwaii #1
By Hervé St-Louis
March 28, 2009 - 09:20
The Gwaii is about a band of sasquatches living in a remote island in British Columbia. When Taanuu's mother is shot at and caught, à la Bambi's mom by hunters, Taanuu decides that he will rescue his mother. Helping him on his quest is Jaada, a young female sasquatch. But time is running and the humans are not about to let two young Sasquatches ruin their logging plant. Will Taanuu save his mom before it's too late?

This series was clearly marketed for kids and licensors. That's all good an fine, but the attractive price point can't hide the fact that there are many problems with this simple tale. The story is not meant to be complicated and easy to pick up by any reader. The problem is that making a story simple and easy to pick up doesn't mean it has to be dumb down. Kids are not stupid and writing down at them is not the way to catch their interest. When I was a kid, I liked those cartoons and comic books that did not emphasis the fact that they were written for a younger audience.

The story itself has severe plot inconsistencies. First, Taanuu's mom did not have to attack the hunters. She and her son could have gotten away quickly as they had not been discovered. That she was willing to attack them broke the covenant, mentioned mere pages before that the Gaii always try to hide from humans. Of course, had she not done so, there would have been no story to be told, except for one of happy sasquatches living in a forest.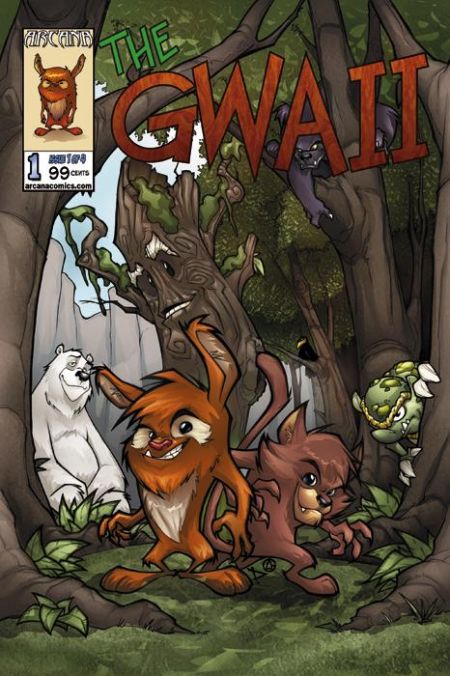 For a tale that emphasis native values, Taanuu and the other sasquatches sure sound like your average suburbanite. Hence there is no attempt to infuse real native tones and perspective in this story, save for using native names. The native names are also a problem. The character's name and even the name Gwaii is written with different spelling within the comic book, but also on Arcana's Web site. It is Gwai or Gwaii? Is it Taanuu or Tanu. This is simple editing issue that should have been figured out before releasing and promoting the comic book.
Visually, the designs are quite interesting. The sasquatches are very reminiscent of the Tasmanian devil! However, there is again inconsistencies with the size relation of the sasquatches and their environment. Are these creatures bigger than humans or small cartoon-sized characters?
Rating: 4 /10
Last Updated: June 23, 2021 - 00:45