Comics / Comic Reviews / More Comics
The 120 Days of Simon
By Troy-Jeffrey Allen
August 24, 2010 - 22:00
I know it's just me, but comic books seem to have a very uncanny ability to reflect my existing frame of mind. When I was eight or nine-years-old Archie's indecision to tap Betty or Veronica seemed to personify my pre-pubescent mystification about girls (although, as of recent, I'm happy to see that he went with the brunette femdom with a bottomless checkbook and daddy issues). At the age of twelve, X-Men grabbed my interest only a mere few months after my dad forced me to attend the Million Man March in middle school. Suddenly, all those empowering speeches about racial identity and inequality were making more sense. When I came back to comics almost a decade later, for the first time, my favorite superhero Peter Parker seemed to be the same age as me (early to mid-20s), and suddenly the smirky, nerdcore universe of Scott Pilgrim seemed to reflect my own skepticism of…well…everything. It's that bizarre personal connection with comics that make the medium so great to me. Movies, TV, and music are all interchangeable experiences (either social or personal), and a novel leaves you the reader the option to connect visually on their own terms…but comics are like a candid conversation. A candid conversation that writer Simon Gärdenfors is willing to have even at the risk of embarrassing himself.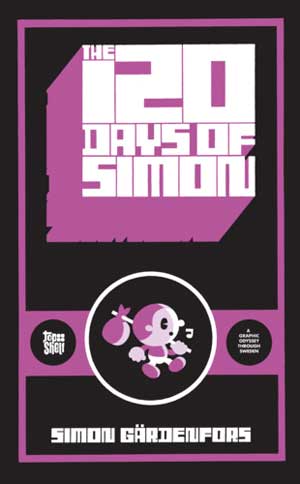 The 120 Days of Simon is an autobiographical comic from Swedish rapper/illustrator/TV-personality Simon Gärdenfors. No stranger to aggressive self-promotion, Simon decides to make his latest graphic novel project an "odyssey through Sweden of today." Using his considerable fame as a "junk culturist," Simon creates www.The120DaysOfSimon.com and invites his fans to let him crash on their coaches and eat their food. In exchange, the fans get to spend one or two nights with a native celebrity and Simon gets to document and illustrate his misadventures over the course of his nearly year-long trip.
What starts off as a small and slightly self-absorbed idea, ends up being a trek through 81 couches. Simon, disjointed toe and all, lives like a sweat-stained king as he sexes women of all ages and colors, takes hallucinogens, jeopardizes his own relationships in the process, and gains more media attention than he ever anticipated.
The potential for scandal is what drives the story of The 120 Days of Simon, but it's the pants-dropping guilelessness that makes the book stick in your memory. Gardenfores' adventure ends up capturing the necessary follies of just about any 20-something and the consequences of his actions serve as a cautionary tale. However, the book also serves as a refreshing reminder of that window between 20 and 29-years of age where anything can happen and consequences can be tossed to the side.
The world (myself included) may be looking to adopt Scott Pilgrim's 8-bit universe as their idealized 20-something experience…but for this 29-year-old, Simon Gärdenfors' 120 Days encompasses the inconsiderate reality of youth much more accurately.
Last Updated: April 9, 2021 - 22:22