Review: Forza Horizon 2

By Sean Booker
October 18, 2014 - 00:37
Forza Horizon 2 is a good extension of the arcade spin-off we saw that, unfortunately, swapped out some of my preferred features. Despite losing some of the neon stylings of the first game, the visuals look amazing and the lighting and weather effects help drive this point home. The arcade racing is fun and freeing while still bringing over the depth and detail from the core franchise. An emphasis on off road driving allows for an enjoyably wild and chaotic time. This is an incredibly solid feeling game with a huge wealth of wonderfully displayed content.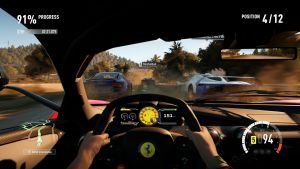 We lose the Colorado setting this time and move the Horizon Festival to southern Europe. The venue and setup is still the same: this big music and car festival is going on giving purpose to all the dancing crowds and fireworks that are present. The neon, party style has been toned down a bit and this overall aesthetic is more subtle. I personally found myself missing all the hot pink from the first game. This does however give the game a more realistic look and put an emphasis on the environmental visuals.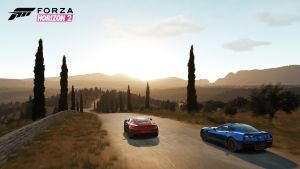 I'm convinced that the "Horizon" in the title is based solely on the amazing looking sunsets you'll see. The way the light shines over all the hills and vineyards is incredible. Lens flares and blown out sunrises boost the contrast and shadows making everything look great. The number of times I was wowed at how golden everything was was plentiful. This continues when it gets darker, especially during a rainstorm. When the area gets dull and grey the horizon begins to fall off in the distance. Shapes in the background get broken down to solid layers of grey giving an almost grayscale like effect to the surrounding area. This partnered with the lights from the cars and towns makes a very cool effect. Horizon 2 is a fantastic looking game from start to finish.
You will enter different championships as you work your way towards the Horizon Finale. Each time one of these is presented you can pick between whichever style of racing/car you want. The game will also make note of if you already have a usable car for each type or if you can afford to buy a new one. This makes it easy to jump between racing styles and never get too bored or forced into racing only one specific way. Progressing through each championship becomes more interesting in varied since you choose what you want and when you want it. If you don't like off road racing then you can race through the game without ever having to focus on it. This level of choice and customization is really appreciated and implemented nicely.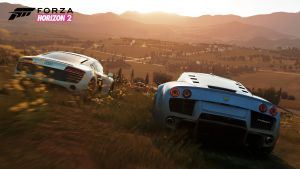 Playing through the game without any off road racing though would be insane since this is where Forza Horizon 2 is best. The game is constantly wanting you to drive off trail and through a field, valley, dried lake, group of hedges, etc. The feeling of just barely maintaining control as you slide and drift your way through vegetable fields while focusing on just pointing yourself at the next smoke clouded checkpoint is a wild and frequent rush. This is pushed further by the game's deliberate use of music. Every race will start off with a new song beginning. This gives each race a set piece like feeling; as if the music was selected for this specific race to happen. Personally however, I preferred the tracklists from the first game over Horizon 2.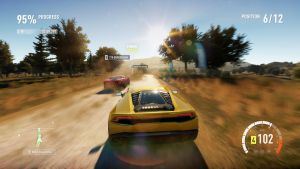 It doesn't stop there with set pieces since the Showcase events make a return. These are some of the most interesting races you will partake in since your opponent is never a car. Racing against hot air balloons, trains and even cargo planes is a ton of fun. Each presents its own unique racing style for you to go against and it's a welcomed twist to the usual car races. The downside however is that a lot of these are repeats from the first Forza Horizon game. Only having five of them throughout the game can make them a lot less special if you played the first in this series.
This offshoot has an air of fun and excitement that the clinical detail that the core Forza franchise doesn't. Without track racing and the off road emphasis this time around brings a looseness that works great. If you're not a simulation racing fan then the arcade nature of this game will easily work for you. Even with that said, the level of car customization, detail and car handling is brought over. The full paint job creation aspect is present here which makes buying any new car a delight when getting to pick out a crazy customized detail. This creates of a great mix of fun and precision that should interest fans of either racing genre.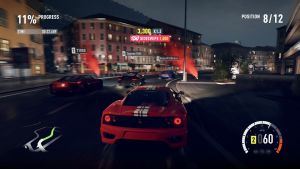 Online connectivity is also quite prevalent through the game. Speed traps and finish times will all be ranked on leaderboards. Every race will end with the game asking if you would like to retry it and beat the fastest time above your own. You can even join a specific racing club to compete with on a smaller scale. In fact, the game mentions that every other racer in your game is actually the Drivatar of another player in the world (basically their play style and user data). This didn't seem to mean much since the cars appeared to handle like normal computer-controlled cars do but it is interesting to think everyone was somehow impacting my game. My one disappointment with the online play was that they removed the cooperative challenges from the first game (that were taken from Burnout Paradise) and thus left me largely uninterested in playing directly with others online. Overall though, there is a great deal of interconnectivity here.
Despite preferring the first game, Forza Horizon 2 is an incredibly fun and gorgeous looking arcade racer that can even excited the most simulation focused fans. The car handling, detail and customization is vast and the way you can select how to progress through the game is comfortable and fluid. Driving through fields at extreme speeds while barely maintaining control is a ton of fun and Showcase events will easily excite new players. The arcade nature of the Horizon offshoot is nicely continued with this sequel.
Rating: 8 /10
Last Updated: April 9, 2021 - 22:22