MAX ESTES' BIG DEBUT
By Leroy Douresseaux
April 29, 2005 - 14:48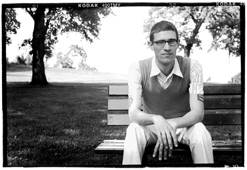 A photo of the cartoonist
A Marvel or DC convention table with a long line of aspiring X-Men and Batman artists in front of it isn't the only place to find promising new comic book talent. A friend of a friend who happens to be the TV writer who will re-launch Moon Knight isn't the only hot new thing. Sometimes, in that often ignored corner of comic books known as the small press, alt-comics, or art comics a promising new cartoonist emerges with more heat than a newcomer should have. That's
Max Estes
.
Top Shelf Productions
recently released Estes' debut graphic novel, the therapeutic
HELLO, AGAIN
. Estes discussed his work, some of his history, and the book (which I highly recommend) with us:
Would you mind giving us a little biographical information about yourself and briefly describe your family, or whatever your want to share?
MAX: I was born and raised in Lake Geneva, a small working class town in southern Wisconsin that doubles as a Summer get-away for rich Chicago families. My mother was a newspaper reporter and soon began doing public relations work for a local start-up company in Lake Geneva,
TSR
. TSR, of course, would go on to create the Dungeons and Dragons phenomenon. She soon started writing books for them, the choose-your-own adventure books that were so huge in the early 80's.
My stepfather worked for TSR as well, creating these far out sci-fi board games. These games, such as
Snits Revenge
were just totally absurd, hilarious games, that have gone on to gather cult status among D&D gamers.
I have two brothers and one sister. My two oldest siblings though were not a huge part of my life growing up, when I was entering high school they were leaving etc. I wasn't a very outgoing kid, didn't really care to perform well in high school, but somehow graduated and was accepted into the Milwaukee Institute of Art and Design.
When were you first exposed to comics, either books or newspaper strips, and when did that spark first appear in your mind that said, "I want to make comics?"
MAX: When in my first semester at the Milwaukee Institute of Art and Design (MIAD), I met
Craig Thompson
. He only went to MIAD for one semester, and was an immediate lightning bolt of intrigue for me. Craig was a really strange kid in many ways. He drew comics, and I'd never really thought about sequential art at that point in my life. I thought, "Wow, this kid's onto something great here, what's this indy comic scene all about?" But I wasn't really conscious of comics at that point, I was more interested the energy he had to create this work. Real energy. This was probably early 1996.
I had always been into Gary Larson and Calvin and Hobbes, but never graphic novels or even R. Crumb at that point in my life. My step dad had this huge collection of R. Crumb work,
Mr. Natural
and stuff. But Crumb's comics really freaked me out as a child. I thought, this stuff just seems wrong. I was more interested in looking at his Playboy collection! Of course, I am now enamored with the honesty and intensity of Crumb's work.
I'm really putting Craig in the spotlight here, but it wasn't until I saw Chunky Rice that I really thought about doing comics. The summer that Chunky hit the shelves, Craig rolled through Milwaukee (he was living in Portland at the time), and I happened to see
Good-bye Chunky Rice
by chance. I was amazed. I thought, someone is paying you to put this stuff out in the world? This is amazing, you can say a lot in this format.
I immediately started looking into comics; it was like a light went on. I've just recently told Craig about this. It's pretty funny, really. Besides that, Brian Ralph's
Cave-In
was a gigantic thing for me. Cave-In was the first graphic novel I ever purchased, and I still think it holds up as a timeless treasure in story telling.
I'm fascinated to learn that your mother was (or is?) a novelist. What kind of books did she write and under what name?
MAX: My mother,
Rose Estes
, wrote about 25 books. She mostly wrote medieval fantasy novels for both young adults and adults. She authored many best sellers for TSR, Bantam Books, Random House and others. She was one of the first D&D authors to write those choose-your-own adventure books, which really caught on huge in the early 80's.
We would always get really crazy fan mail at the house when I was young. Messed up D&D fans mailed her crazy stuff, like dead lizards and potions. I think they must have thought she was some sort of wizard or something. When, in reality she was an ex-hippy, middle-class mom trying to raise three or so kids on one income. She didn't always write what she would have liked, but did what she had to do to keep food on the table. She met much success, but I think she started to feel trapped in the D&D genre. She's incredibly happy that I'm writing and creating comics, although I'm not sure she really appreciates the medium.
What kind of influence did she have on you, and why didn't you follow her into prose fiction?
MAX: I loved the fact that, when I was growing up, she was able to work from home. I thought, "That's the way to do it." She's always worked out of a home studio, like I try to do as much as possible now. She worked by her own rules, and I liked the idea of having so much career independence. Although she still had an editor and deadlines of course.
On a larger scale, I was really impressed with the fact that she created these whole worlds, fantasy stories, and could make a living from her writing. She wasn't like my friends parents, working behind a desk in a cubicle or factory line. She was a creator, an inventor, and this had a profound effect on me and what I wanted for my life. What's more appealing than seeing your creations come to life and displayed on bookshelves around the world? Of course my comics aren't that widely distributed yet.
I saw a mention that your stepfather designed science fiction board games? Who is he and which ones did he design?
MAX: My step father figure was
Tom Wham
, a cartoonist, author, and board game designer. He created these very odd and strange games such as
The Awful Green Things from Outer Space
and
SNITS!
He was definitely the odd man out at TSR, really forging beyond the whole dragon and sword wielding barbarian board games. His games have gone on to have a lasting effect on people and are now in print again. As a cartoonist, he was always creating funny little strips and stuff when I was younger. But, again, I think I thought of them as kind of perverse and odd little cartoons, like the Crumbs work. Kind of dirty old man stuff!
Was your stepfather's work a big reason you became attracted to design work?
MAX: My mother was an avid, avid reader when I was growing up and always has been. When I was little she would take me to the library at least once a week only to return with a two-foot stack of thick, thick novels. She would read a novel every day and a half almost, and I'd sit and wonder at the awesome book designs that blanketed many of these publications. It has only been recently that I've noticed how having these books around the house had a profound effect on me. I really picked up on great book design for some reason; saying to myself "gosh that looks like it'd be a great, great story!" A good book cover can go many, many miles! As well, my parents were huge art fans, and covered our walls with all sorts of works. Creativity (all sorts) was and is a real asset to my mother and step dad
Did your mother's work for TSR and your stepfather's science fiction work make sci-fi and fantasy a big part of you and/or your siblings daily life? And do you currently follow those genres?
MAX: I think my siblings and I mostly thought that this work was kind of cheesy as we were growing up. I know I was never into D&D while growing up (or now), and never really understood it. I was more into skateboarding and stealing candy from the local corner store. I really appreciated that they did what they did for a living, but not necessarily what they created. I am much more appreciative of their work now that I'm older. But for the most part, I am not interested in the medieval or sci-fi genres.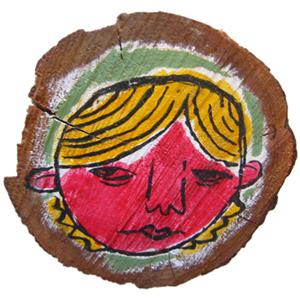 An Estes painting
When did you decide to create a graphic novel, and who were the cartoonists who influenced you or encouraged you to enter the graphic novel fray?
MAX: Immediately after college I was interested in children's books and thought that I would follow that path (and still may to an extent). But, I think graphic novels and comics have a stronger calling for me, I have more to say in this format than with children's stories. I was immediately turned on once I saw Craig Thompson's work, especially since this was someone I knew, someone with a pretty similar background as me (both being from the Midwest, both coming from small towns).
Since I have started drawing comics and am now onto my second book, I notice that I am very influenced and motivated by a wide range of cartoonists. Lately I've been digging on John Porcellino's work, Jeffrey Brown, James Sturm and as always Brian Ralph's work. Part of what keeps me interested in comics is the seemingly endless fountain of awesome cartoonists working today. I only hope to add to that legacy in some small way.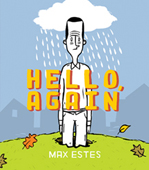 The book in question
How would you describe Hello, Again? Is it aimed at a particular audience?
MAX: Hello, Again started from a very innocent idea; the back yard mystery. Maybe not so "innocent," but I loved the idea of this mysterious hole in the back yard, sort of a doorway to the past, of course, a past you'd love to forget. I would describe this story as a new take on a familiar story. Someone suggested the Ghost of Christmas Past as coming to mind, I don't know if I completely agree with that, but there is definitely a common theme I'm playing off of. Essentially, your life is akin to a long thread, no matter how far down the line you go, your mistakes/regrets are a part of you, they're where you've been. Learn from your past in short.
Are there particular works that influenced Hello, Again - movies, books, plays, etc?
MAX: I never thought of this, really. I am definitely influenced by many, but am very rarely conscious of it.
Aaron Renier
, another Top Shelf cartoonist, is actually the one that planted in my head the idea of skeletons in William's closet. A simple enough idea, but originally my story was based around the idea of this mental "scar" manifesting itself in the form of a big, nasty hole in William's back yard. A hole that served as a reminder of a void in one's life, a chilling reminder that you cannot move forward until this void is dealt with.
In the first draft of Hello, Again this presence in William's back yard would torment him, placing huge piles of dirt in his house, literally burying him in his guilt. This idea turned out to possibly be too "poetic" for comics, and I opted for a more direct approach. Hence dead people crawling out of the ground. Writing all this makes me now think of the Twilight Zone, which I was a huge fan of in my childhood.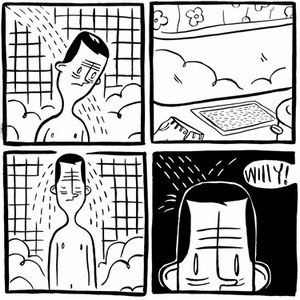 First page of Hello, Again featuring lead, Willy
The idea of someone from the past showing up and digging through old wounds or bringing up old issues can be scary, and it certainly is uncomfortable. Are "ghosts from the past" going to be a reoccurring theme in your work?
MAX: I think guilty consciences will be a reoccurring theme in my work. I myself can rarely escape my conscience, I am very aware of my actions. A bit paranoid maybe. My next book,
Coffee & Donuts
is going to be a much "lighter" story, with no real lessons to be learned. With this next book, I am exploring yet again characters who are not fully capable of turning off the little voice in their heads, but feel compelled to act a fool. Expect many shenanigans.
What's the reception for the book been so far, both from the professional and fan community? In fact, how have your friends, such as the esteemed Mr. Thompson, reacted to the book?
MAX: It's been a lot of work, promoting the book. I don't have the name behind me that will sell the book, this being my first full-length story. But reception has been solid and positive thus far. I am very great full to Mr. Brian Ralph (Cave-In) in having his seal of approval on the book and penning a quote for the back cover. Cave-In had a big effect on me when I first started looking at indy comics. Craig Thompson, who has been a good friend of mine for years, is always pushing me to create more detailed backgrounds. I see the allure of a detailed drawing, but I myself don't think in those terms, my aesthetic is more reductive; I pay attention to the over all shapes and tend to create pretty graphic drawings. Much different than Craig's drawings which are beautifully complex. I think I find beauty in simplicity, at least that's my defense for now. My peers such as Craig, Aaron Renier, and other non-cartoonist artist friends have been a huge support in my efforts.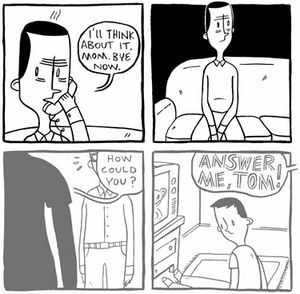 A crucial childhood moment for Willy
Do you find it a struggle to get people to find out about the book, especially the Direct Market for comics which is very super hero (meaning DC and Marvel) focused?
MAX: I am a relentless promoter of my book/work. I don't always succeed as much as I'd like, but I have never ending energy to talk to people and spread the word. I mostly think of spreading the gospel on the comics medium as a whole, it's so much more than super heroes and big breasts obviously. I have had to visit and contact many mainstream comic shops and hip them to the idea of carrying my book and "indy" comics. I live in the Midwest and people are really starting to see the light. Books like Craig's
Blankets
and Moore's
From Hell
have obviously helped. Who knows, this interview may spur someone to buy a copy of my book!
What currently takes up your professional life besides comics?
MAX: I do very little freelance work at this point. I tend to find very little enjoyment in doing work for industry. Maybe I have not been given a good lot in the freelance world yet to form a solid opinion, but for now I'd rather draw my own comics. I am starting to dabble in newspaper style comic strips, but pretty limited thus far.
For an income, I have had the awesome opportunity to teach Illustration course part-time at MIAD where I earned my BFA. Noticing how much I enjoyed this opportunity, I enrolled in grad school and will start earning my MFA next fall. My plan is to teach illustration full-time and continue cranking out comics and graphic novels. Establishments like the new
Center for Cartoon Studies
in Vermont, really excite me. I'd love to teach sequential art courses, and programs like this are extremely important to the medium.
What's in your comics and/or professional future about which you want readers to know, and do you have anything you want to add before we close the interview?
MAX: Look for my next book, Coffee & Donuts (Top Shelf) in stores next Spring. I am really looking forward to seeing this project come to life, and hope to create a series of books with these new characters; two homeless and confused cats who thrive on making bad decisions. As well, be sure to come out to MoCCA in New York, Wizard in Chicago, and SPX in Bethesda this summer where I'll be shamelessly hocking Hello, Again and promoting my next projects!!!
Thank you, Max.
Please, go out and buy
Hello, Again
($10.00, 160 pages, ISBN: 1-891830-63-5); at 10 bucks, it's a steal and a fabulous debut. His publisher, Top Shelf, sells their books at topshelfcomix.com. Visit Max at maxestes.com. All images accompanying this interview are ©Max Estes.
Thanks for coming in. Please, visit my movie review site, negromancer.com. Contact me if you are a creator or publisher with a book publicize. Holla!
Last Updated: May 19, 2020 - 12:25