Gacha Gacha Volume 5
By Julie Gray
March 8, 2007 - 23:05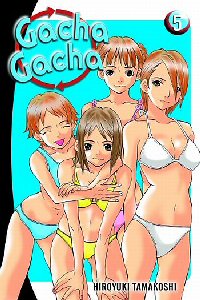 Gacha Gacha Volume 5 Cover
"Could it be love?"…
Ah, the bittersweet journey of lovelorn teenagers. Gacha Gacha Volume 5 is all about love - and lots of it. At first, I thought this manga was going to be quite boring to read but half way through I realised just how intriguing the storyline had become and of course, continued to read it right through to the end.
Gacha Gacha is a love story with an unusual twist. The main character in the manga is a young teenager named Kouhei who falls in love with not one but what appears to be four different girls! We can probably guess what you're thinking right about now but the girls are not really four different girls but one and the same girl with four different personalities! How is that for interesting?
The unusual storyline is certainly enough to keep your eyes glued to the pages and as the remainder of the story unfolds, you realise just how quirky and well written this manga is. Although the emphasis seems to be placed on characters that are created in a virtual world, this manga seems more like a story about a schizophrenic teenager rather than a character based in a virtual reality.
Kouhei's character is somewhat oblivious to the impossibility of the situation but one slowly begins to see that his character is piecing things together. This primarily occurs during a rather tense interaction when Kouhei comes face to face with the evil side of one of the girls he has fallen in love with, Kurara.
We certainly don't want to spoil the experience of Gacha Gacha for you but we do think that this manga is definitely worth reading if you enjoy romance with a little bit of psychological mayhem mixed in to spice things up. The virtual reality theme is also very strong throughout and with only five volumes in this series; the writing is compact and covers a lot of the ground.
Gacha Gacha Volume 5 comes complete with a note from the author, details about the author's previous works, translation notes and a sneak preview of the next volume.
We highly recommend Gacha Gacha Volume 5 and we're definitely looking forward to the next book in the new series. If you're keen to take a look at this manga, you can do so here by visiting Del Rey's website.

Art Work: 6/10
Story: 7/10
Overall Rating: 7/10
Contact the author: Julie@thecomicbookbin.com
Last Updated: June 23, 2021 - 00:45