From Print Comics to Web Comics
By Hervé St-Louis
May 4, 2008 - 15:28
Toronto-based Karl Kerschl, currently known for his work Teen Titans Year One and several other comic book series published at DC Comics, such as Superman, Action Comics, Ghost Rider for Marvel Comics and covers for Green Hornet comic books, has jumped fully into the world of Web comics. His ongoing series begun in June 2007 and published every Wednesdays; The Abominable Charles Christopher is his current passion.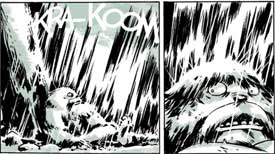 Episode 1, June 20, 2007
The Web comic series allows Kerschl to write an ongoing comedy and adventure series with continuous subplots introduced, while keeping its creator, as well as its audiences entertained. Some of the differences that Kerschl sees with print comic books are that the artwork is more simplified. According to Kerschl, Web comics are the new frontier with no right or wrong way of doing them.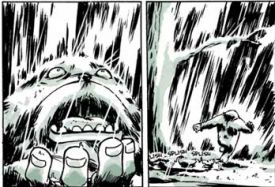 Episode 1, June 20, 2007
Kerschl says that the audience is different from the one who reads print comic books. "I'm finally tapping into new markets. Everyone reads comics. It's nice to be reminded of the real potential for readership." Artists such as Kerschl have more direct interactions with their audience when their books are published online. According to Kerschl, feedback is quick and immediate. It is helpful in gagging the public one reader at a time. The relationship is more personal between the cartoonist and his audience. Kerschl says that the audience affects directly what happens.
Kerschl hopes that his Web comic,
The Abominable Charles Christopher
will translate in sales as the weekly Web comics gets collected as a printed collection one day. However, for the artist this is not his initial goal. The purity of the art form is.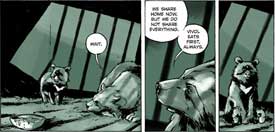 Episode Best Served Cold, April 30, 2008
http://horhaus.com/abominable/
Last Updated: June 23, 2021 - 00:45