In Off The Street: Fat Cat Comics and Games
By Josh Hechinger
December 1, 2006 - 05:36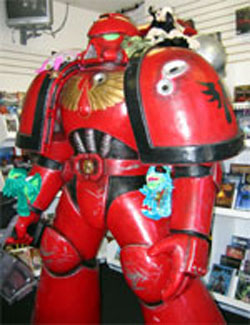 Blood Angel. Security guard. Collector of stuffed animals.
A man-sized statue of a Blood Angel Space Marine from the game Warhammer 40,000 glowers through the window at people walking by. It looks like some kind of a giant space knight, with a helmet like Darth Vader and the biggest shoulder pads this side of 80s fashion. His armor is scored with laser scorches and bullet holes, although it's doubtful they came from his current post.
Depending on who you are, the oversized table-top war game miniature is either going to be very cool or vaguely intimidating. But either way, he makes an impressive doorman for Fat Cat Comics and Games 119 East Lancaster Ave. in the heart of Downingtown, Penn.
From the outside, Fat Cat looks like a small shop, wedged between a coffee shop that's more diner than Starbucks and Chelsey's Tavern. It doesn't quite give off the dank-cave vibe some shops do, but neither would it be mistaken for a Barnes & Noble from its façade.
Inside, however, is a different story. The store is large and well-lit, the floor space evenly divided between comics and games along a diagonal. Tabletop and collectable card games are up front and all along the right hand wall. Recent comics are on the left hand side, and trade paperback collections and back issues are (ironically enough) in the back. A snack machine and the new comics shelves flank the checkout counter.
Most of the actual floor space is taken up by tables set up to run the games the store sells, where armies clash as legions of tiny models or decks of cards. When I was there, a handful of twelve-year-old boys (give or take a few years) bustled around the tables, playing and trading collectable card games. The store hadn't been open an hour yet, and they were already deep in epic, card slinging combat.
Eventually, William Cloud walked in. He didn't walk in like he owned the place, despite the fact that he does. One might even think he was a customer until he goes behind the counter. Cloud is a 25-year-old philosophy major at West Chester University, originally from Aston in Delaware County. He'd been working in a hobby store when he decided to strike out on his own. It's three years later and business is good. He considers it more of a gaming store, with the sale of comic books just a natural extension to the gaming clientele.
But why go into the business at all? Partly it's a love of gaming, a love of the world of collectable cards, tabletop warfare and paintable miniatures. And partly it's the satisfaction of working with kids.
Twice while I was getting background information from Cloud, the twelve-year-olds came up to show Cloud some rare cards they'd gotten, or ask to somehow convert a handful of spare change into more cards. Both times, he showed himself to be a natural at dealing with kids. He gave them his undivided attention, and talked to them on that hard-to-hit equal level.
The customer service of the store cannot be stressed enough. Although Cloud claimed the average age of his customers was twenty-five, the ones I saw walk through were mainly pre-teens and their mothers. Cloud, as well as staffer Corky Farr, were nothing but polite and helpful to them.
The store carries a variety of comic book titles, both mainstream and independent, as well as a large selection of Manga and books on the subject of sequential art.
In addition to selling comic books and gaming products, Fat Cat also runs various events and tournaments based around the games they sell. Additionally, they host birthday parties for all ages. The store's event schedule and contact information can be found at http://www.fatcatcomics.biz
Last Updated: June 23, 2021 - 00:29