Comics / Comic Reviews / More Comics
Bizarre New World #1
By Geoff Hoppe
April 24, 2007 - 20:49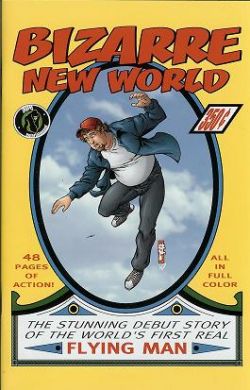 Admittedly, this series would be improved if it were about a Japanese college girl. Who could fly. In a skirt.

Hahahahahahaha gotcha. No naked ladies here, just a comic book review. But you clicked, didn't you?

I've tried going cold turkey on mainstream comics. It's not easy. When you forego the two Big Houses, you're left with Image, Dark Horse, and the vast world of indie comics. For every indie gem out there, there's a lot of rough to claw your way past. Of course, the paucity of good indie material drove me back to the welcoming arms of DC (not Marvel—you kill Cap, you lose my business), but I might not have abandoned the world of the smaller publishers so quickly had there been more titles like Bizarre New World.

Bizarre New World is the story of a regular schmo who gains the ability to fly. He doesn't have any psychological hangups. He doesn't nurse vengeful dreams. Writer Skipper Martin doesn't embellish his story with typical superhero trappings. Instead, he takes a strong, simple premise and manipulates it in entertaining, even whimsical ways.

Skipper Martin's charming, straightforward style is engaging and innocent without being naïve. He also has a great sense of humor, and allowing the protagonist Paul's imagination to wander often ends in entertainingly drawn sight gags.

Christopher Provencher's pencils perfectly fit the cleverly understated writing style and average-joe hero. He's Frank Quitely with more raw talent and a cartoonier look. His layout work also fits the writing like two puzzle pieces.

It's a rare joy to see creators working on something this exciting, this new, this unknown, and this much fun. Bravo, Bizarre New World, and the story it hath in it.

Worth the money? Absolutely. Give this creative newcomer a shot.
Last Updated: June 23, 2021 - 00:45