Batman/Danger Girl
By Geoff Hoppe
March 20, 2007 - 23:08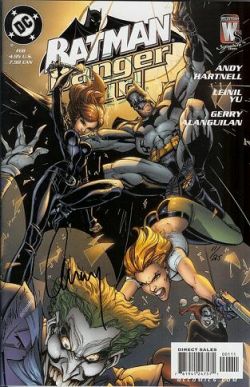 Yes, that IS an autographed copy...it's the only one I could find.

Sometimes, very good things don't mix well together. For instance: I adore corn dogs and kung-fu movies. I also adore Chauteau Frontenac reserve label '59 and Shakespeare's tragedies. Attempts to bring the four together in a single evening, however, would result in dire consequences. Much like Batman/Danger Girl.

In Batman/Danger Girl, Donavin Conrad comes to Gotham to make the Joker an offer he can't refuse. Batman and the Danger Girl team bump into each other, and, no surprise, he doesn't like them. Stuff blows up, Batman hits people, and the Danger Girls parade about in skimpy clothing.

Batman and the Danger Girls mix better than carnival food and fine wine, I'll admit that. Not much better, though. Hartnell's eclectic mix of humor and violence (weak stomachs beware, there's a minor dismemberment in this story) is off-kilter in Gotham city, a locale that's difficult to draw and even harder to write. In Hartnell's favor, he does give the city a definite character—it just doesn't feel like crime-plagued Gotham.

Francis Leinil Yu is a great penciler. His current work on the New Avengers is convincingly frenetic, and his pencils in Ultimate Wolverine vs. Hulk are appropriately ferocious. Batman and Abbey Chase don't hold up well when interpreted by his style. The Danger Girls look too generic, and Batman moves like an oversized grey box in a cape. It's not totally Yu's fault, however. Phil Noto's take on the Danger Girls also failed to capture the series' je ne sai quois; the characters are only truly themselves when drawn by J. Scott Campbell.

Worth the Money? Not unless you're a hardcore Danger Girls fan. Batman geeks (like myself) will find a better fix elsewhere.
Last Updated: June 23, 2021 - 00:45