Comics / Comic Reviews / More Comics
B.P.R.D. Killing Ground #1
By Geoff Hoppe
September 11, 2007 - 20:42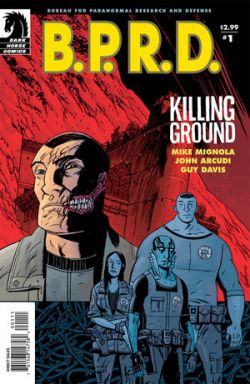 That's his good side.
Last month, Abe Sapien prevented a cataclysm. This month, things are back to normal at the B.P.R.D. Kate's being a b*tch, Liz is having visions, and Daimio's yelling at people. It's normal, save one big development: previously disembodied psychic Johann Kraus has inhabited the giant, lifeless body the B.P.R.D. brought back from Indonesia (also last month). Johann is thrilled to be corporeal again, and he's bouncing about the compound lifting weights, looking at girlie mags, and generally enjoying physical sensation.
This cheerful, upbeat turn isn't good. Oh, no. It's decidedly bad. Why, you ask? Because every time a sober good guy suddenly gets giddy, it's caused by a visit from the Foreshadowing Fairy. The good times for Johann Kraus won't last. Just you wait, and in an issue or two, he'll overestimate his own abilities, or get seriously injured, or slam Abe Sapien's fingers in the minivan door, or SOMETHING. It's how these things work.
Killing Ground #1's best feature is its timeliness. B.P.R.D. series used to come out very infrequently, so it's refreshing to see a new arc beginning a month after the last one ended. As geriatrics say, regularity is good.
Killing Ground #1 is a solid performance by writers Mike Mignola and John Arcudi. The pace is appropriate for a first issue, and opening the story in media res with an argument between Daimio and his BPRD buds contributes a sense of immediacy. The successive pages show Arcudi's subtle, accomplished hand at character development.
Johan Kraus' transformation from curvaceous ghost to blocky human offers a challenge to artist Guy Davis. Davis' strong suit isn't the human body; his most appealingly drawn character was always Johann. Lucky for Davis, this arc features a curvy, oddly proportioned Wendigo (a type of Canadian monster), and oddly proportioned is Davis' forte.
Worth the money? Definitely, for fans. The writing is strong enough to warrant a look for the casual reader, too.
Last Updated: June 23, 2021 - 00:45