Zone-00: Volume 2
By Leroy Douresseaux
December 24, 2009 - 08:08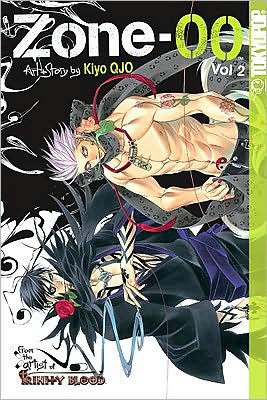 Zone-00 Volume 2 cover image is courtesy of barnesandnoble.com.
Fantasy; Rated "OT" for "Teen-Age 16+"
Zone-00 is a manga fantasy from Kiyo QJO, the artist of the Trinity Blood manga (which he draws under the name Kiyo Kyujo). Zone-00 takes place in a world where humans and demons coexist, but where both live under a fragile peace. Thrown into this volatile mix is a mysterious drug known as "Zone-00, which seems to be causing demons all over Tokyo to lose control and revert to their violent ways. The drug can also turn humans into demons.
The narrative focuses on two characters – high school students from very different backgrounds, Ango Shima and Saburo Kujo. Ango Shima is an exorcist who specializes in demon control. The Shima family is the highest authority among exorcists. Shima's current goal is to exterminate the Hime (princesses) terrorizing the Tokyo area. Saburo Kujo is a normal high school student who wants to be Ango's pal; he is also hyperactive and interested in peculiar things. Kujo has a secret of which even he isn't aware. Caught on the middle of a fight between Shima and an adversary, Kujo is beheaded, unleashing an oni (demon) named Kiyoami that had been sealed inside his body.
In Zone-00, Vol. 2, the Brothers Kurobara, Renji and Rouji, fight each other, as ancient feuds resurface. Meanwhile, the drug Zone-00 takes hold Tokyo's demon population, and Shima tries to find the drug's mysterious supplier.
THE LOWDOWN: Although the narrative is an incomprehensible mess, Zone-00 features some exceptionally pretty art by Kiyo QJO. The creature/demon/monster art is inventive and superbly executed in a lush rococo style that decorates the characters in stylish patterns and markings. This Barry Windsor-Smith meets Goth-Loli art is so toned and rich in details that it feels like it is in color, although this is black and white. I like the art to the point that I'm stubborn enough to keep reading this, although I have a hard time figuring out what the hell is going on.
POSSIBLE AUDIENCE: Fans looking for really pretty art will like Zone-00.
B
Last Updated: August 31, 2023 - 08:12