07-Ghost: Volume 3 manga review
By Leroy Douresseaux
March 12, 2013 - 15:17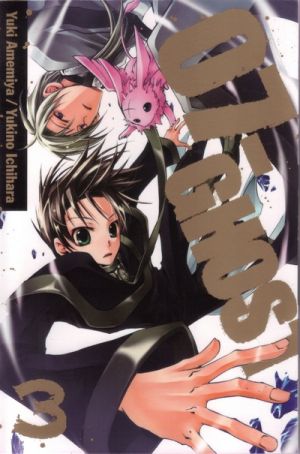 07-Ghost Volume 3 cover image
Rated "T" for "Teen"
The Barsburg Empire and the Raggs Kingdom were once two rival empires. Barsburg destroyed Raggs. Teito Klein, a former slave and orphan, discovers that his father was the King of Raggs. Teito was a cadet at the Barsburg Empire Military Academy, but he escaped and now hides in the Barsburg Church of District 7. There, three bishops and seven legendary ghosts guide his destiny. With the divine magical jewel, the Eye of Mikael, in his possession, Teito seeks to uncover the secrets of the murky past.
As 07-Ghost, Vol. 3 (Chapters 12 to 17) opens, Teito continues his training with Castor, the Bishop who can manipulate puppets and is one of the Seven Ghosts. Castor actually uses puppets to compete with Teito and test his skills. Teito is determined to pass the Bishop Examination, which will help him gain access to worldwide travel privileges.
Then, a crime perpetuated by Chief of Staff Ayanami of the Barsburg Empire Military Academy, throws the church in an uproar. Evil spirits attack. Then, Bishop Frau is framed for an offense that could bring the death penalty, but Teito fights to clear Frau. When Assistant Archbishop Bastien, Frau's former teacher, arrives to help, Teito thinks Frau might be saved. Things only grow more complicated, however.
THE LOWDOWN: As the 07-Ghost manga is the debut work of a creative team, the series has rough edges. With this third volume, the series starts to show polish. Character relationships solidify and the status of the villains and adversaries are clearer than before. Goals and desires and conflicts and obstacles make more sense and no longer seem like story deficiencies. 07-Ghost Volume 3 is a pivotal volume, and the series' potential to get better is made real. This is a fantasy series that promises to go many places in terms of genre and plotlines.
POSSIBLE AUDIENCE: Readers looking for shonen military fantasy will want to try 07-Ghost.
Rating: B+ /10
Last Updated: August 31, 2023 - 08:12