Comics / Comic Reviews / More Comics
Zeitgeist #1 comics review
By Leroy Douresseaux
Jun 3, 2018 - 15:15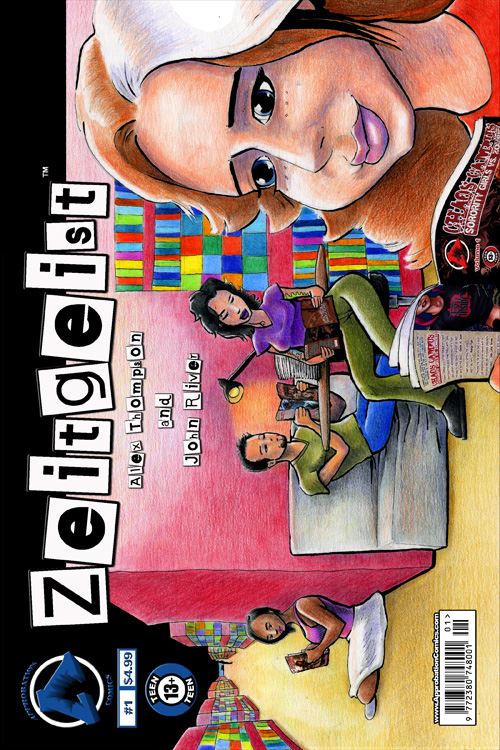 Zeitgeist #1 cover image
Zeitgeist
is a comic book series published by Approbation Comics. It is written and lettered by Approbation boss,
B. Alex Thompson
, and drawn and colored by
John River
. The series, which is told in an episodic style that mimics a Sunday newspaper comic strip, follows the misadventures of on-the-go twenty-somethings.
Zeitgeist

#1
presents Strips 001 to 036. This first issue opens in a large comic book store. Employee Isabelle Fanning spies a customer handling a graphic novel in an appropriate and damaging manner. After confronting the young man, she discovers that his name is Max Yeung, and he is a screenwriter. After some witty repartee, it is decided that Isabelle will read a screenplay Max recently sold and give him feedback. Truthfully, Isabelle is very attracted to Max, but a chance encounter with Isabelle's friend, Leah Winters, leads to hilarity.
THE LOWDOWN:
The interior pages of Zeitgeist #1 are printed in the landscape format, so readers will have to read it as if they were flipping through a calendar. When I first received a review copy of this comic book from Approbation, I was not sure if I was annoyed or not. I prefer to read comic books the same way I normally do – left to right in the "portrait" layout.
Still, there was something about Zeitgeist that kept bugging me and attracting my attention, so I finally surrendered and read it. Zeitgeist is good – really good. It has a situation comedy (sitcom) quality and is somewhat similar to many of the popular television sitcoms of the last three decades that focus on groups of friends, including "Friends," "How I Met Your Mother," and Living Single," to name a few. B. Alex Thompson has created some especially likable characters; you will not have to read too far into the first issue to feel like you want to hang out with these characters.
Zeitgeist really seems to capture a defining spirit of modern times... or attempting to do so.
The art by John River is clean and expressive. It is like a combination of the graphic styles found in alt-comix and college newspaper comic strips. River uses minimal backgrounds, but they are still highly suggestive. I found my imagination filling in the rest of the environments. I think many readers will find themselves filling out the story by putting themselves in this comic book.
I READS YOU RECOMMENDS:
Fans of the comics of Alex Robinson and of relationship comics will want to try
Zeitgeist
.
A
Zeitgeist #1's ComiXology page: https://www.comixology.com/Zeitgeist-1/digital-comic/308992
www.ApprobationComics.com
www.AlexThompsonWriter.com
Rating: 8 /10
Support this writer on Patreon
Last Updated: Jun 26, 2018 - 9:28