Yukarism: Volume 3 manga review
By Leroy Douresseaux
July 16, 2015 - 20:07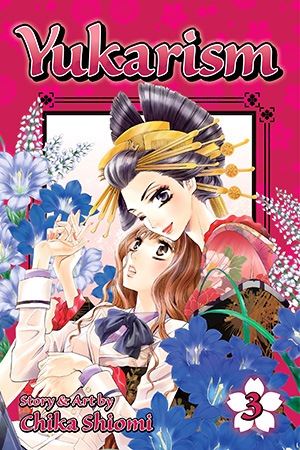 Yukarism Volume 3 cover image
Rated "T" for "Teen"
Yukari Kobayakawa
is a 17-year-old high school student and an accomplished author! Yukari's historical novels are set in Japan's
Edo Period
of the early 1800s, of which he writes about with amazingly accurate detail. Shockingly, Yukari has the ability to slip into a past life in the Edo period, where he is a beautiful, renowned courtesan (Oiran) named
Yumurasaki
.
As
Yukarism

, Vol. 3
(Chapters 9 to 13) opens, Yukari believes that his fellow student,
Mahoro Tachibana
, and his housekeeper,
Shizuki Takamura
, also have past lives that are connected to his past life. He is having trouble figuring out who they are in the Edo period. Meanwhile, Shizuki and Mahoro are not getting along, and their confrontations are growing increasingly violent.
[This volume includes bonus manga.]
THE LOWDOWN:
With each volume, the
Yukarism
manga grows stronger.
Yukarism Volume 3
hints less at darkness and supernatural romance and more on the bonds of friendship and love. After reading the first volume, I wondered if this series would become focused on a simple hook that seemed like a narrative gimmick.
From the beginning,
Yukarism
was enjoyable, but I wondered if it would improve or remain static. With this third volume,
Chika Shiomi
reveals a little more, and the series seems open to more possibilities. Then again, I am a sucker for Shiomi.
POSSIBLE AUDIENCE:
Fans of Chika Shiomi can travel into the past in the Shojo Beat title,
Yukarism
.
Rating: A- /10
Last Updated: August 31, 2023 - 08:12