Yukarism: Volume 2 manga review
By Leroy Douresseaux
April 3, 2015 - 15:29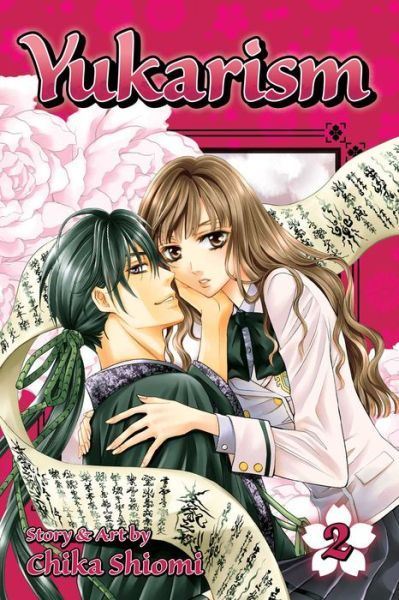 Yukarism Volume 2 cover image is courtesy of barnesandnoble.com.
Follow me on
Twitter
.
Rated "T" for "Teen"
Yukari Kobayakawa
is 17-years-old and attends high school, but he is also already an accomplished author. Yukari writes about historical Japan, specifically the Edo Period of the early 1800s. Shockingly, Yukari has the ability to slip into a past life in the Edo period, where he is a beautiful, renowned courtesan (
Oiran
) named
Yumurasaki
.
As
Yukarism

, Vol. 2
(Chapters 5 to 8) opens,
Katsuhiko Satomi
accepts the job as Yukari's housekeeper in place of the injured,
Masa
, who is Katsuhiko's aunt. However, Yukari's classmate,
Mahoro Tachibana
, is determined that Yukari not hire Katsuhiko, who was recently fired from his corporate job.
Suddenly, a karmic relationship is created between Yukari, Mahoro, and Katsuhiko. Yukari has a past life, and apparently so do Mahoro and Katsuhiko. Things take a strange turn when Yukari next returns to the Edo period, and discovers that both Mahoro and Katsuhiko have a dark side.
THE LOWDOWN:
Like many series from manga creator,
Chika Shiomi
, the
Yukarism
manga is a darkly romantic tale steeped in supernatural spectacle. As usual, I will admit to being a huge fan of Shiomi's manga,
Yurara
, and I also like her other title,
Rasetsu
.
Yukarism Volume 2
, in terms of story quality, is an improvement on the first volume. I thought Vol. 1 strained credulity, because there were so many reincarnations in such close proximity. After introducing the main characters that have a life in the present and in the Edo period, Shiomi uses the chapters that comprise Vol. 2 to focus on building the characters. Their personalities step forward, and their secrets build a sense of intrigue. I expect
Yukarism
to be a really good series.
POSSIBLE AUDIENCE:
Fans of Chika Shiomi can travel into the past in the Shojo Beat title,
Yukarism
.
Rating: A- /10
Last Updated: August 31, 2023 - 08:12