Yu-Gi-Oh! 5D'S: Volume 3 manga review
By Leroy Douresseaux
October 7, 2012 - 21:12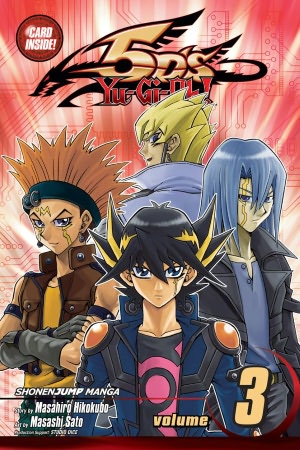 Yu-Gi-Oh! 5D's Volume 3 cover image is courtesy of barnesandnoble.com.
Rated "T" for "Teen"
As the Yu-Gi-Oh! franchise goes, Yu-Gi-Oh! 5D's is the series between Yu-Gi-Oh! GX and Yu-Gi-Oh! Zexa. Yu-Gi-Oh! 5D's is set in New Domino City and focuses on the city's hottest game, Turbo Duel. Turbo Duel is fought on Duel Runners, which are Duel Disks that are motorcycle-like vehicles. Players, of course, fight with cards that can summon various monsters and assorted fantastic creatures and beings. Yusei Fudo, the toughest duelist in Satellite (a district in the outskirts of New Domino City), is the newest Turbo Duel hero.
As Yu-Gi-Oh! 5D's, Vol. 3 (The Duel Dragons!!) opens, Yusei has made it into the second round of the D1 Grand Prix, but all is not good. Yusei's pal, Sect Ijuin, has fallen under the thrall of the Shadow King. When Jack Atlas, the turbo duelist known as, "The King," learns that Sect has a "Shadow Card," he wants it and challenges Sect to a duel to get the card. Meanwhile, Yusei learns of a group of powerful cards known as "Duel Dragons." How does he get one? Dueling, of course.
[This volume includes a Yu-Gi-Oh! trading card.]
THE LOWDOWN: As I get deeper into this Yu-Gi-Oh! 5D's manga, I find that I enjoy it a little more. I have read very few Yu-Gi-Oh! manga, and the ones I've read, I got as review copies from my VIZ Media representative. I still find reading and following the card duels in this series a bit confusing. The artist crowds the characters and card art into the pages as if he were trying to replicate a pack of cards. Still, Yu-Gi-Oh! 5D's is fun, and I want to keep reading.
POSSIBLE AUDIENCE: Anyone who has been reading the other Yu-Gi-Oh! manga series will want Yu-Gi-Oh! 5D's.
Rating: B /10
Last Updated: August 31, 2023 - 08:12