Yu-Gi-Oh 5D's: Volume 2
By Leroy Douresseaux
February 10, 2012 - 09:53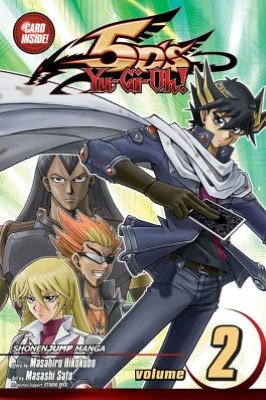 Yu-Gi-Oh 5D's Volume 2 cover image
Rated "T" for "Teen"
In the Yu-Gi-Oh! franchise, Yu-Gi-Oh! 5D's is the series between Yu-Gi-Oh! GX and Yu-Gi-Oh! Zexa. Yu-Gi-Oh! 5D's is set in New Domino City and focuses on the city's hottest game, Turbo Duel. Turbo Duel is fought on Duel Runners, which are Duel Disks that are motorcycle-like vehicles. Players, of course, fight with cards that can summon various monsters and assorted fantastic creatures and beings. Yusei Fudo, the toughest duelist in Satellite (a district in the outskirts of New Domino City), is the newest Turbo Duel hero.
As Yu-Gi-Oh! 5D's, Vol. 2 (The D1 Grand Prix Begins!!) opens…umm… the D1 Grand Prix actually begins. The honor of the competition's first Turbo Duel goes to Yusei Fudo and Greiger, who rides a monstrous three-wheeled motorcycle, and the rigors of the race will reveal something amazing about Yusei. Meanwhile, Sect Ijuin, who is like a kid brother to Yusei, gets involved in something very dark.
[This volume includes a Yu-Gi-Oh! 5D's trading card.]
THE LOWDOWN: As I admitted in my review of the first volume of Yu-Gi-Oh! 5D's, I have read very few Yu-Gi-Oh! manga. I have found them to be mildly entertaining, but with this volume, I am starting to really dig Yu-Gi-Oh! 5D's. I can't really say why I like it because reading and following the card duels are tedious+. One thing I did notice is that the characters in this series seem more tied together (for good or bad or neutral) than I noticed in other series. That makes for conflict, which puts pop in the drama.
POSSIBLE AUDIENCE: Anyone who has been reading the other Yu-Gi-Oh! manga series will want Yu-Gi-Oh! 5D's.
B
Last Updated: August 31, 2023 - 08:12