Young Artists Draw Manga
By Leroy Douresseaux
September 13, 2011 - 11:50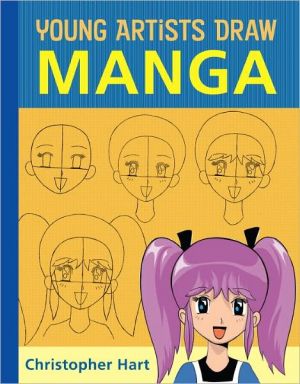 Young Artists Draw Manga cover image is courtesy of barnesandnoble.com.
Christopher Hart is a bestselling author of illustrated art books that focus on drawing and cartooning. His website describes him as "the world's leading author of How-to-Draw books on the popular arts, including cartoons, manga, comics and classic subjects such as figure drawing, anatomy and realistic animals." I discovered Hart a few years ago and have his 2008 book, Drawing the New Adventure Cartoons: Cool Spies, Evil Guys and Action Heroes.
Hart has a new series of art instructional books and it launches with the just-released Young Artists Draw Manga (Watson-Guptill, 144pp, $14.99). The book not only gives step-by-step instructions on how to draw a basic face and the rest of the body, but it also presents a way to draw character types from manga, Japanese comic books. Taking characters from anime, books, movies, and video games, as well as manga, Hart offers more than 120 original characters for young artists to learn to draw. Each character gets a full page, and Hart breaks the character down into six basic steps along the way to drawing the character.
I think children and teens that are interested in manga and anime and want to draw characters from them will like this book. The entire book package and its contents are clearly directed at young readers and artists, in an open and friendly way. With so many different characters offered, Young Artists Draw Manga seems determined to both reach as many young artists as possible and to offer lots of material to inspire them. If a young artist has talent or a young reader wants to begin drawing, Hart meets her or him halfway with plenty of material to try.
Last Updated: August 31, 2023 - 08:12