Comics / Manga / Yaoi Manga
You Make My Head Spin (Yaoi)
By Leroy Douresseaux
Dec 4, 2008 - 13:55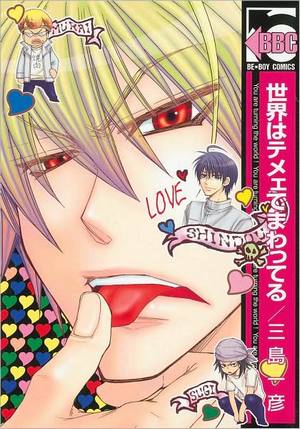 The above art for the original Japanese edition of You Make My Head Spin also appears on the cover of June Manga's edition.
Rated "M" for "Mature Audiences 18+"
Shindou is a transfer student to a rough, rundown school with a student body full of delinquents. He meets tough guy Yousuke Aizawa and is immediately smitten with him, and much to Shindou's delight, Yousuke hides a soft side, which he is reluctant to show. Will Shindou be able to reveal his love for Yousuke? Will Yousuke accept, and if he doesn't, will another Shindou student, the boyish-faced Yuki, step in to love Shindou?
The title suite of You Make My Head Spin, a yaoi manga from Kazuhiko Mishima, is a four-chapter romance that features a star-crossed pair, Shindou and Yousuke, and a nice supporting cast. It's a comic romance with Shindou playing the amorous straight man to Yousuke's belligerent, blond beau-hunk, who seems to constantly misread situations; they make for a rather pleasing comedy duo. Yes, the sparks do fly in this novella, about as much as the laughs do. Mishima's figure drawing is solid, and her expressive faces on her characters, especially the angular eyes, make this riotous romance work.
A bonus story is "Sensei," a gentler, romantic comedy, starring a stern teacher, called "Sensei," and Mimori, one of his students who is very curious about his teacher. As a boys' love tale, "Sensei" is shounen ai, which typically focuses on a romance between two men but does not feature explicit sex (whereas yaoi generally does feature explicit sex between its male characters). "Sensei" is sweet, charming, and almost too sentimental to be included with the lustier You Make My Head Spin.
B+
Last Updated: Jun 26, 2018 - 9:28