Yona of the Dawn: Volume 7 manga review
By Leroy Douresseaux
August 23, 2017 - 23:07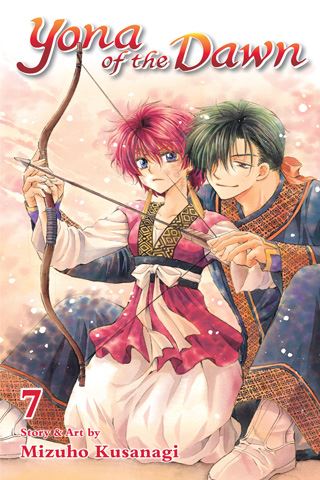 Yona of the Dawn Volume 7 cover image
Rated "T" for "Teen"
She lives an ideal life as the only princess in the Kingdom of Kohka. Her father, King Il, dotes on her, and her faithful guard,
Son Hak
of the Wind Tribe, protects her. Yona even cherishes the time spent with the man she loves, her cousin
Lord Su-won
of the Sky Tribe. However, everything changes for
Princess Yona
on her 16th birthday when the king is killed and Hak is blamed. Soon, Yona is on the run with Hak, but she is determined to reclaim her throne by finding the
Four Dragon Warriors
.
As
Yona of the Dawn

, Vol. 7
(Chapter 36 to 41) opens, Yona finds herself a captive of
Yang Kum-ji
, the evil tyrant who terrorizes and controls the port town of
Awa
. She has infiltrated Kum-ji's human trafficking operation, but her escape plan looks like it is going to fail. She will need the help
Jaeha
, the pirate who is the "
Green Dragon
."
Then, a shocking reunion forces Yona to experience more emotional turmoil than she expected. Plus, a love potion causes confusion among our heroes.
THE LOWDOWN:
The Yona of the Dawn manga is a mixture of Chinese historical romance (or at least a Japanese version of it) and quest-adventure. It is sweet even when it tries to be tart. It is also a teen romance, and one might mistake it for a high school shojo romance.
Yona of the Dawn Volume 7
wraps up the adventure in the port of Awa, and Yona adds a third dragon to her group. However, the best and most riveting section of this graphic novel is the surprise reunion. That saves this volume from being more of the same, and it should keep regular readers interested and asking what's next.
I READS YOU RECOMMENDS:
Fans of historical romantic adventure will want to try the Shojo Beat title,
Yona of the Dawn
.
A-
7.5 out of 10
Rating: 7.5 /10
Last Updated: May 19, 2020 - 12:25