Yona of the Dawn: Volume 6 manga review
By Leroy Douresseaux
June 14, 2017 - 10:33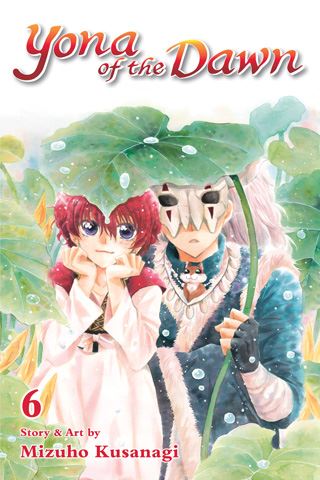 Yona of the Dawn #6 cover image
Rated "T" for "Teen"
Princess Yona
lives an ideal life as the only princess in the
Kingdom of Kohka
. Her father, King Il, dotes on her, and her faithful guard,
Son Hak
of the Wind Tribe, protects her. Yona even cherishes the time spent with the man she loves, her cousin Lord Su-won of the Sky Tribe. However, everything changes on her 16th birthday when the king is killed and Hak is blamed. Soon, Yona is on the run with Hak, but she is determined to reclaim her throne by finding the
Four Dragon Warriors
.
As
Yona of the Dawn

, Vol. 6
(Chapter 30 to 35) opens, Yona discovers that
Jaeha
the pirate is the "
Green Dragon
." However, Jaeha fights the fire in his blood that calls to him to embrace the Princess's quest. He wants to embrace Yona, but not as a "Green Dragon," but maybe as a suitor. Later, Yona must prove herself to Jaeha's
Captain Gi-gan
. She must climb the steep cliff of the
Vanishing Cape
to obtain the rare
Senju Herb
. How will a frail girl do that?
[This volume contains bonus manga.]
THE LOWDOWN:
The
Yona of the Dawn
manga is a sweet mixture of Chinese historical romance (or at least a Japanese version of it) and quest-adventure. It is also a teen romance, and one might mistake it for a high school shojo romance.
Yona of the Dawn Volume 6
shows a different or, at least, a more mature side of the series lead, Yona. Creator
Mizuho Kusanagi
seems to be slowly building a love triangle with Yona at the center, but at the same time, she is revealing her star as a budding hero who shows herself as both resilient and plucky. Plus, with the beautiful art, Yona of the Dawn is just hard to resist – call it beauty and brawn.
I READS YOU RECOMMENDS:
Fans of historical romantic adventure will want to try the Shojo Beat title,
Yona of the Dawn
.
A
Last Updated: May 19, 2020 - 12:25