Yona of the Dawn: Volume 5 manga review
By Leroy Douresseaux
April 5, 2017 - 21:05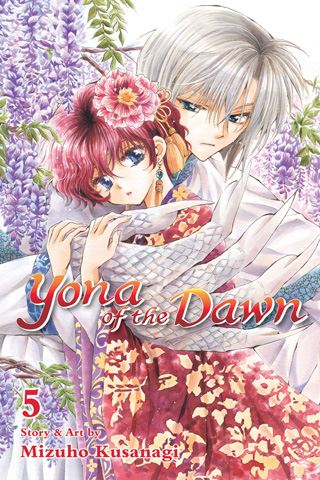 Yona of the Dawn Volume 5 cover image
Rated "T" for "Teen"
Princess Yona
is living an ideal life as the only princess in the
Kingdom of Kohka
. Her father,
King Il
, dotes on her, and her faithful guard,
Son Hak
of the Wind Tribe, protects her. Yon even cherishes the time spent with the man she loves, her cousin Lord Su-won of the Sky Tribe. However, everything changes on her 16th birthday when the king is killed and Hak is blamed. Soon, Yona is on the run with Hak, but she is determined to reclaim her throne by finding the Four Dragon Warriors.
As
Yona of the Dawn

, Vol. 5
(Chapter 24 to 29) opens, Yona, Hak,
Yun
, and
Gija the White Dragon
leave the
Village of the Blue Dragon
, after they escape from an earthquake. Yona give the
Blue Dragon
a name, but will he leave with Yona and company? Next, Gija senses the presence of the Green Dragon, which takes the small band to
Awa Port
in the land of the Earth Tribe. Although his presence is strong, the
Green Dragon
proves hard to find.
THE LOWDOWN:
The
Yona of the Dawn
manga is part Chinese historical romance (or at least a Japanese version of it) and part quest-adventure. Over the last ten years of reading manga, I have come to enjoy the particular shojo spin on historical fiction/romance/adventure.
Yona of the Dawn Volume 5
offers more of the elements of this series that have become familiar to readers. This is, however, not more of the same. In the six chapters contained in Vol. 5, creator
Mizuho Kusanagi
shifts the focus away from her star Yona, and delves into the personalities, goals, and trials and tribulations of the rest of her cast, especially focusing on Hak. This volume might make the reader believe that he is the star, and Hak does have a star quality. He could be the lead of his own manga, which is one more reason to read
Yona of the Dawn
. Yona and Hak are two excellent leads.
I READS YOU RECOMMENDS:
Fans of historical romantic adventure will want to try the Shojo Beat title,
Yona of the Dawn
.
A
Rating: A /10
Last Updated: May 19, 2020 - 12:25