Yona of the Dawn: Volume 4 manga review
By Leroy Douresseaux
February 7, 2017 - 11:26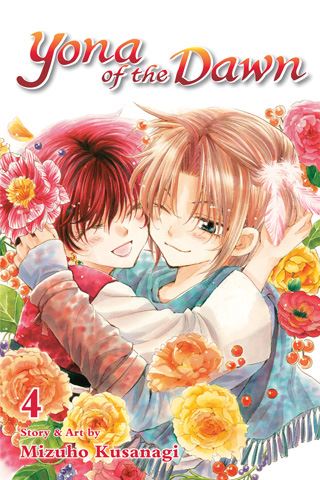 Yona of the Dawn Volume 4 cover image
Rated "T" for "Teen"
Princess Yona
lives an ideal life as the only princess in the
Kingdom of Kohka
. Her father, King Il, dotes on her, and her faithful guard,
Son Hak
of the Wind Tribe, protects her. Yon even cherishes the time spent with the man she loves, her cousin Lord Su-won of the Sky Tribe. However, everything changes on her 16th birthday when the king is killed and Hak is blamed. Soon, Yona is on the run with Hak, but she is determined to reclaim her throne by finding the Four Dragon Warriors
As
Yona of the Dawn

, Vol. 4
(Chapter 18 to 23) opens, Yona and Hak continue their journey to find the rest of the
Four Dragon Warriors
, after locating
Gija
, the White Dragon. Gija can sense the other warriors, but only slightly when they are at a great distance away. Luckily, the trio is also accompanied by
Jun
, pretty-boy genius. Next up, is the location of the
Blue Dragon
, but this warrior's village is not a welcoming place.
THE LOWDOWN:
The
Yona of the Dawn
manga is in my manga fanboy wheelhouse. Part Chinese historical romance and part quest-adventure, so I cannot help but like it.
In
Yona of the Dawn Volume 4
, creator
Mizuho Kusanagi
further delves into her star quartet's personalities. She throws a surprise at her readers, by making the place of the Blue Dragon not as friendly or as easy to navigate as the home of the White Dragon. Her origin story of the Blue Dragon is a poignant and heartbreaking tale, but our heroine Yona is the spoonful of sugar to make it all better. It should not be so easy to like this series, but the main characters are classic lovable shojo teens. Yeah, they are quite sugary even in this epic adventure.
I READS YOU RECOMMENDS:
Fans of historical romantic adventure will want to try the Shojo Beat title,
Yona of the Dawn
.
A-

Rating: A- /10
Last Updated: May 19, 2020 - 12:25