Yokaiden: Volume 1
By Leroy Douresseaux
December 13, 2008 - 19:10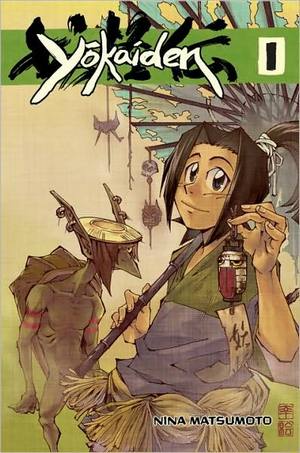 Yokaiden 1 cover courtesy of barnesandnoble.com.
Rating "T" for "Ages 13+"
Not only does Del Rey Manga produce English language editions of manga, they also produced OEL manga – "original English manga" produced by non-Japanese creators. Their latest OEL manga title is Yōkaiden by Nina Matsumoto, known for her Internet work, including her webcomic, Saturnalia.
In Yōkaiden, Vol. 1, readers meet Hamachi Uramaki, a young boy obsessed with yōkai – Japanese spirits of folklore. When a yōkai kills his grandmother (leaving him an orphan), Hamachi enters into the Yōkai realm for revenge, where he befriends a talking paper lantern ghost he names "Lumière" or "Lumi." Lumi is just one of many strange creatures Hamachi encounters on a journey that will either take him to his grandmother's killer or leave him lost forever in another world.
THE LOWDOWN: For fans of authentic (or native) manga, OEL manga can be irritating (for whatever reasons), but non-Japanese creators have produced numerous quality comics and graphic novels inspired by Japanese manga. Yōkaiden is one of them, and while not a masterpiece, it is an enjoyable read. The creator's love of Japanese culture shines through in the form of a story full of imagination and playful, light comedy. Yōkaiden is a road trip comedy and fantasy travelogue in the tradition of The Wizard of Oz. In Hamachi, Yōkaiden has the kind of spunky, brave kid that readers will want to follow for a few volumes.
Matsumoto's art has a lively, fluid feel similar to animation, while her character and creature design is quirky. Her composition can be a bit wild and sometimes awkward, but she has a good feel for anatomy, particularly bodies in motion.
POSSIBLE AUDIENCE: Although the book's rating suggests that it is for teenagers, any young reader who would read a fantasy comic book will likely enjoy Yōkaiden.
B+
www.spacecoyote.com/comics/sat for Saturnalia
www.delreymanga.com
Last Updated: January 24, 2022 - 11:00