Yo-Kai Watch: Volume 3 manga review
By Leroy Douresseaux
January 7, 2016 - 21:47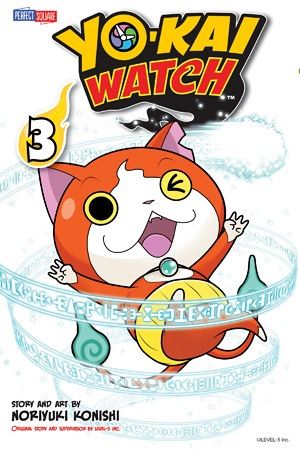 Yo-Kai Watch Volume 3 cover image
Rated "A" for "All Ages"
Nate Adams
is an ordinary elementary school student, who one day meets Whisper, a strange yokai (called "
yo-kai
" in this series). The floating, blob-like Whisper gives a gift to Nate. It is the "
Yo-Kai Watch
," which allows Nate to see yo-kai that are invisible to the human eye. Soon, Nate is helping yo-kai and collecting from each one a "
Yo-Kai Metal
," a memento of friendship that allows him to call on his yo-kai friends when he needs help.
As
Yo-Kai Watch

, Vol. 3
(entitled
Jibanyan's Tale
; Chapters 15 to 24) opens, Whisper tries to help Nate learn to swim so that he won't be embarrassed during gym class. Thanks to Whisper's antics, embarrassment could be the least of Nate's problems. Next, Nate tries to impress
Katie Foster
, the prettiest girl in his class, but a new Yo-Kai could mess that up by telling too much of the truth. Meanwhile, Jibanyan, Nate's favorite Yo-Kai, has some solo adventures.
[This volume includes a special chapter, "Yo-Kai Instructions."]
THE LOWDOWN:
I learned that the
Yo-Kai Watch
manga is inspired by the
Yokai Watch
video game created by Level-5 for the Nintendo 3DS. Published under VIZ Media's "Perfect Square" imprint, the manga is produced by mangaka,
Noriyuki Konishi
. I wondered if this media franchise had reached the states, outside of the manga. A few days ago, I saw some
Yo-Kai Watch
plush toys at a local Wal-Mart.
By the end of
Yo-Kai Watch Volume 3
, Nate has earned his twenty-first Yo-Kai friend. In this volume, Nate does not earn as many friends because several chapters focus on Jibanyan. It is a nice change of pace for the series, as Jibanyan is actually a good character.
Yo-Kai Watch
is also a genuinely funny manga. I have to admit that I am surprised by series mangaka Noriyuki Konishi's inventiveness at fashioning humorous situations. This series may turn out to be a strong one, meaning that I am interested in what is really a kids' comic.
POSSIBLE AUDIENCE:
Young readers interested in manga will want to try the Perfect Square series,
Yo-Kai Watch
.
Rating: B+ /10
Last Updated: August 31, 2023 - 08:12