Yokaiden: Volume 2
By Leroy Douresseaux
November 23, 2009 - 21:25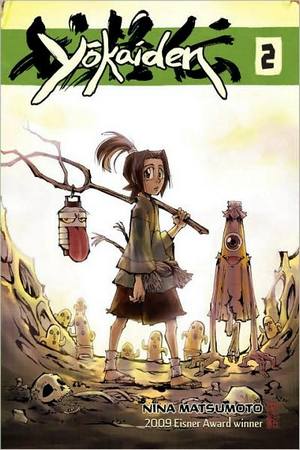 Yokaiden Volume 2 cover image is courtesy of barnesandnoble.com.
Rating "T Ages 13+"
Yōkaiden is the story of Hamachi Uramaki, a young boy obsessed with yōkai – Japanese spirits of folklore. After a yōkai called Madkap kills his grandmother (leaving him an orphan), Hamachi enters into the Yōkai realm for revenge. There, he befriends a talking paper lantern ghost he names "Lumière" or "Lumi," who becomes his traveling companion. Hamachi's journey that will either take him to his grandmother's killer or leave him lost forever in another world.
As Yōkaiden, Vol. 2 opens, Hamachi's quest has drawn the attention of The Ninetails, a gargantuan fox spirit, who rules from a wealthy fiefdom on her end of the Yōkai realm. The Ninetails, who calls herself "Christina," offers to help Hamachi find Madkap, but only if the boy can retrieve three treasures she claims were stolen from her. However, with the yōkai, nothing is completely what it seems, and neither is Christina's offer. Christina really wants to keep Hamachi as her pet. Also, the ghost of his grandfather's paper umbrella returns, and Hamachi gives him a name.
THE LOWDOWN: Like the fantastic worlds created by filmmaker Guillermo del Toro and author Neil Gaiman, the fantasy world created by Nina Matsumoto for Yōkaiden is, top to bottom, a fully formed place of fantastic creatures and environments. Matsumoto, who won a 2009 Eisner Award for "Best Short Story" ("Murder He Wrote" from The Simpsons' Treehouse of Horror #14) completely transports her audience away to a realm that, like L. Frank Baum's Oz, is not Kansas nor anywhere else in the real world.
That can be a little problematic at times. Sometimes, Hamachi's personality becomes a bit too passive, and he, the center of the story, becomes a little like background clutter, as the world of the yōkai overwhelms the narrative. When Matsumoto gives Hamachi the center stage the way she does in the story of Hamachi's parents, Yōkaiden is at its best. This is but a small gripe. Yōkaiden is the kind of fantastically told story that really makes you hate the fact that there is a last page.
POSSIBLE AUDIENCE: Readers looking for something like Alice in Wonderland and The Wizard of Oz will love Yōkaiden.
A-
www.spacecoyote.com/
www.delreymanga.com
Last Updated: August 31, 2023 - 08:12