Interview with Yanick Paquette
By Hervé St.Louis
January 3, 2004 - 14:20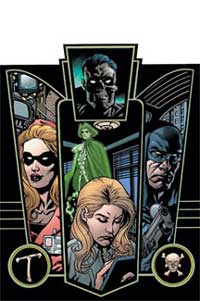 Yanick Paquette was interviewed at the Montreal Comic Book Expo.
Hervé
Hervé: Did you start the floppy boot loop on Wonder Woman?
I don't think so. I'm sure Adam Hughes started that. I find that cool.
Hervé: How long have you worked in the industry?
About eight years. Here's a history. I did adaptations for tv shows like X-Files, Xena, Space Above and Beyond which got cancelled along with the comic. In also n worked on smaller projects like Warrior Nun. I did one year of Wonder Woman, one year of Gambit. I did one Superman book per year and a few JLA. I did one year of Codename Knockout, two years of Gen 13, Avengers, stuff for Crossgen. I try to avoid monthlies. I also work on Terra Obscura with Alan Moore. I like that.
Hervé: What's Terra Obscura?
It's a spin off book from Tom Strong where he introduced a parallel universe with Tom Strange with existing characters published by Nedor. We call them Nedor characters. The original stories were stupid. Alan puts them in dramatic settings, adds dimension, but keeps their rich 1940s backgrounds.
Hervé: What's the reaction so far?
I finished my part. It's difficult to say. You can't guess. Internet folks are freaks. Net fans only care about the fact that the characters are obscure. People see nostalgic stuff, but no one really knows these characters. For the sales, we always know that there will be a trade. We know people wait for the trade, like Promethean.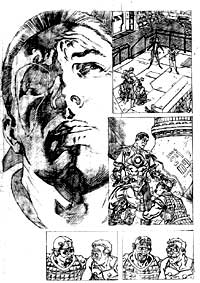 Hervé: How is it working with Moore?
I don't work directly with Moore. He only has a fax and no Internet. I work with Peter Hogan, who writes the scripts with Moore. They work together. Alan talks about it. Hogan writes. Moore corrects.
Hervé: Are you a DC Comics' guy?
No did Negation, Avengers. Now, I'm on ABC.
Hervé: What are your influences?
My three big influences are Kevin Nolan, Adam Hugues. Mike Mignola and many others from the old realistic school, like Al Williamson, Hal Foster. I admire that old school a lot.
Hervé: What do prefer? Single or team books?
Team books take more time. I like Terra Obscura. Alan seems to like to bring up more characters. There are like twenty principal characters. At least, they're not all on the same page at the same time. In the morning, I eat sweet crap. I like cereals with colours and games. Can we do an interview with crap stuff - but exclusive stuff?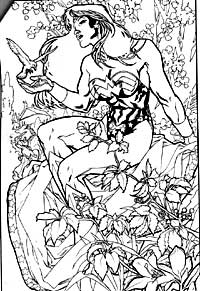 Hervé: Sure.
I have two budgies. I used to have one but I got another one because it was bored.
Hervé: If Yanick is still up for it. We'll follow up with the type of interview he wants to do and talk about the pizza parlour across the street where he orders rose coloured honey ever Friday night at 3 am to eat with his brownies.
You can find out more about Yanick Paquette at his own Web site.
Last Updated: September 6, 2021 - 08:15