Johnny Ryan's XXX Scumbag Party
By Leroy Douresseaux
August 27, 2007 - 17:45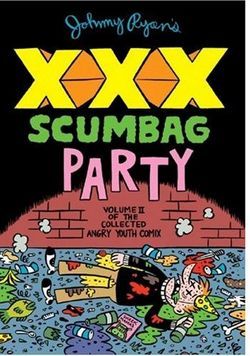 Thanks to Amazon.com for the image.
JOHNNY RYAN'S XXX SCUMBAG PARTY
For the past several years, I usually pose this question when reviewing the work of cartoonist Johnny Ryan, "Why hasn't this man been arrested, yet?" It's not just the scatological nature of his work, but it's also that his full frontal assault on us and our institutions should have gotten someone in authority's notice by now. The funniest cartoonist in the America (hands down) reveals all his noxious hilarity in his latest trade paperback, Johnny Ryan's XXX Scumbag Party, which collects the comix published in Ryan's noxious comic book series, Angry Youth Comix #6-10, as well as reprinting material from VICE Magazine and Hotwire Comix & Capers, Vol. 1.
Ryan's comix certainly have similarities to the general humor, sharp parodies, and broad satire of Mad Magazine and its ilk. Like many of the best magazine and newspaper cartoonists, Ryan is exceptionally gifted at creating wonderfully hilarious gags, but humor magazines and gag cartooning is, for the most part, mainstream. Ryan is decidedly unconventional in that he takes conventional comics and cartoon humor and directs it in a fashion that most resembles the Underground Comix movement of the mid-60 to mid-70's. He also shows the influence of the rowdiest post-Underground comix magazine, Weirdo, under the editorship of Peter Bagge.
It's easy to see the influence of the evil genius Peter Bagge on Ryan more so than, say R. Crumb and Zap! Taking such influences, Ryan directs his pen to tear at the fabric of American existence more than Bagge, Crumb, or such like minded cartoonists ever did. Ryan isn't merely a satirist or social critic. He's an anarchist/terrorist. Not only does he attack institutions, culture, and our cherished façades. He tears at them, defecates on them, and shows us what's left. Some of us appreciate that he does not self-sensor, and some of us even celebrate him.
We can tolerate or (surprise) even like how, when, and where we live, but it's good to see that someone takes us even less seriously than we could ever take ourselves. Only such a cartoonist/satirist/social critic could imagine a lazy, incurious President of the United States who obsessively collects his own piss. Happy reading!
A-
A review of the previous Angry Youth Comix collection, What're You Lookin' At?! by Leroy.
Last Updated: January 24, 2022 - 11:00