xxxHOLiC: Volume 16
By Leroy Douresseaux
Jan 4, 2011 - 9:30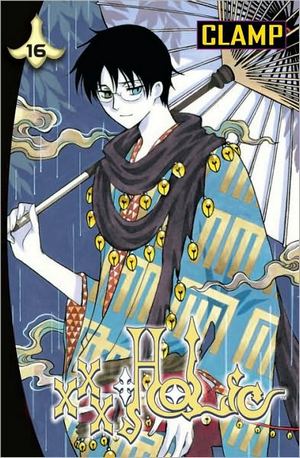 xxxHOLiC Volume 16 cover image is courtesy of barnesandnoble.com.
Rating "T" for "Ages 13+"
Kimihiro Watanuki is a high school student who is plagued by spirits called "yōkai." Invisible to most people, the yōkai have a strong attraction to Watanuki, but he finds these encounters with the spirits troublesome. Yūko Ichihara, a powerful witch who owns a wish-granting shop, rids him of the spirits... for a cost. Watanuki becomes a part-time employee for Yūko, running small errands, dealing with the supernatural, and performing household chores.
With xxxHOLiC, Vol. 16, the series becomes xxxHOLiC Rô. After the demise of Yūko, Watanuki takes over the shop, but now, he cannot leave the shop and resume a normal life. His rival, Shizuka "Haruki" Dômeki becomes a frequent visitor, bringing Watanaki food. Meanwhile, his first customer, a musician, brings her strange child in for help that only Watanuki can provide.
THE LOWDOWN: One of many series produced by the manga-creating collective known as CLAMP, xxxHOLiC is a strangely sedate fantasy title. It seems to exist somewhere between Shin Mashiba's Yumekuikenbun (Nightmare Inspector) and Neil Gaiman's The Sandman. xxxHOLiC isn't flashy and doesn't depict magic as an explosion of power or Hollywood special effects.
The series features clean black and white art, which is presented in compositions that make the art look like black and white lithographs. Like that clean art, xxxHOLiC is smooth and measured. Even the lead character, Watanuki is meditative about problem solving, and there is something enchanting about so much quiet magic. And I certainly like this volume more than I did the last one I read, Vol. 12.
POSSIBLE AUDIENCE: With its art having an Erté-like design style and a fairy tale feel, xxxHOLiC may appeal to fans of Neil Gaiman's Sandman, as well as the usual CLAMP fanatics.
B+

For more of me, please, visit www.negromancer.com.
Last Updated: Jun 26, 2018 - 9:28