World of Warcraft: Shadow Wing: Volume 1
By Leroy Douresseaux
July 28, 2010 - 07:20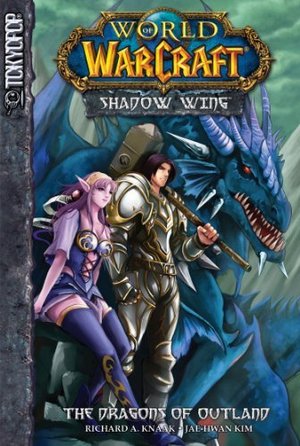 World of Warcraft: Shadow Wing Volume 1 cover image is courtesy of barnesandnoble.com.
Action/Fantasy; Rated "T" for "Teen-Age 13+"
TOKYOPOP has been producing "Global Manga" based upon the online game, World of Warcraft for several years, going back to Warcraft: The Sunwell Trilogy. Now, comes a sequel to The Sunwell Trilogy by the same creative team of writer Richard A. Knaak and artist Jae-Hwan Kim entitled World of Warcraft: Shadow Wing.
In World of Warcraft: Shadow Wing, Vol. 1: The Dragons of Outland, the action travels through the Dark Portal to the shattered world of Outland. The story focuses on Jorad Mace, the young paladin struggling to reconnect with the Light, and Tyrygosa "Tyri" the blue dragon who often assumes the guise of a female elf. The duo inadvertently discovers a conspiracy involving the nether dragons and forms an uneasy alliance with the Krokul and their leader, Warrith. The alliance is a tenuous one for many reasons, but especially because of Tyri's increasingly bad temper and mood. Meanwhile, Ragnok Bloodreaver, one of the original death knights, plans to conquer Outland.
[This volume includes several extras including previews of World of Warcraft: Shaman and World of Warcraft: Mage.]
THE LOWDOWN: This is a big fantasy. It's like Lord of the Rings on steroids because the battles and the humans, beings, and creatures that fight them are so massive that it all seems too big for the page. The story is also too busy. Unlike The Sunwell Trilogy, which began with a singular focus, Shadow Wing has too many characters that act as either a protagonist or focus of the story. Richard Knaak's storytelling is still good, but there are many subplots when there really needs to be a focus on one main storyline.
As usual, the art by Jae-Hwan Kim (War Angels, King of Hell) is wonderful, and he and Knaak still make a great team.
POSSIBLE AUDIENCE: Fans of Warcraft comics will like World of Warcraft: Shadow Wing, Vol. 1: The Dragons of Outland.
B
For more of me, please visit www.negromancer.com.
Last Updated: August 31, 2023 - 08:12