Wild Ones: Volume 8
By Leroy Douresseaux
October 23, 2009 - 13:26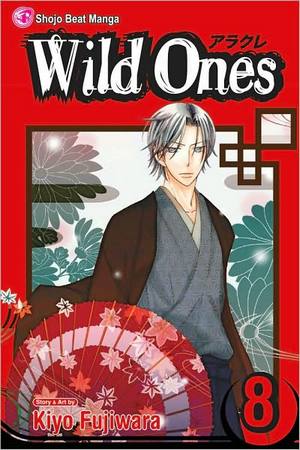 Wild Ones Volume 8 cover image is courtesy of barnesandnoble.com.
Rated "T" for "Teen"
When her mother died, 15-year-old Sachie Wakamura became an orphan. Then, she found her maternal grandfather, Raizo Asagi, on her doorstep. He just happened to be a yakuza lord, boss of the Kanto Asagi clan, and Sachie has to go live with him. Sachie is unhappy with the move until she meets, Rakuto Igarashi, the young man her grandfather assigns as her protector and a fellow student at Nagisa High School.
In Wild Ones, Vol. 8, after some confusion, Sachie and Rakuto are back together – just in time for more drama. Azuma Inui, Rakuto's rival for Sachie's affections, has been spending a lot of time at a local hospital visiting his ailing grandfather. An orphan like Sachie, Azuma worries that he'll be alone in the world again if his grandfather dies. He meets a young girl named Yuzuki, whose aged grandmother is in the same hospital; together, they bond over their similar worries. Meanwhile, a long-lost surprise from Rakuto's past returns!
THE LOWDOWN: Describing Wild Ones as typical shojo manga (comics for teen girls) is not a criticism. Like many shojo series, it is simply a teen or youth romance dressed as a high concept. In this case, the high concept is that the series star and heroine is, so to speak, married to the mob, because her grandfather and guardian is a yakuza. However, the eighth volume of Wild Ones doesn't live up to its title; the characters aren't wild.
Most of this volume deals with family bonds and reunions. Practically every page features a close up of eyes big and wide with intense emotion of either the heartbreaking or heartwarming variety. Winsome gazes, quiet moments, staring off into the distance: they're all here to remind the reader that home is where the heart is. And sappy sentimentalists (like me) will love it.
POSSIBLE AUDIENCE: Readers who enjoy high school shojo romance will like Wild Ones.
B+
Last Updated: January 24, 2022 - 11:00