Wild Ones: Volume 4
By Leroy Douresseaux
September 23, 2008 - 12:27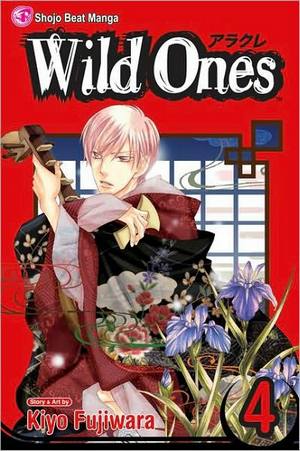 The above cover image is courtesy of barnesandnoble.com.
Rated "T" for "Teen"
After her mother dies, leaving her an orphan, 15-year-old Sachie Wakamura finds her maternal grandfather, Raizo Asagi, on her doorstep. Turns out that he's a Yakuza lord, boss of the Kanto Asagi clan, and she has to go live with him. Sachie is unhappy with the move until she meets the young man her grandfather assigns as her protector, Rakuto Igarashi, a fellow student at Nagisa High School.
In Wild Ones, Vol. 4, Rakuto battles Koh Shinonome, his little rival for Sachie's affections, and the preteen doesn't hesitate to use his age and little kid (with the big eyes) appeal to win Sachie. Koh is the son of a yakuza leader from Osaka, who likes Sachie's positive effect on his son. When Koh's father suggests that Sachie return to Osaka with them, Rakuto doesn't seem at all upset!
THE LOWDOWN: While the romance at the heart of Wild Ones is typical of shoujo manga (girls' comics), what sets this series apart is the supporting cast. Whether it is yakuza soldiers or fellow (and rival) high school students, manga-ka (creator) Kiyo Fujiwara adds spice to the narrative and obstacles in front of her young lovers, which makes Wild Ones feel different from the rest of the shoujo romance crowd. In fact, the stories are at their best when Sachie is fighting back instead of simply being a pawn in the games of males.
POSSIBLE AUDIENCE: Readers who like a bad boy with a heart of gold will enjoy Wild Ones.
B
NOTE: I'd like to pass on my condolences to writer and blogger Brigid Alverson of www.MangaBlog.net. Her father passed away on Tues., Sept. 16. Our prayers are with her and her family.
Last Updated: January 24, 2022 - 11:00