Wild Ones: Volume 1
By Leroy Douresseaux
December 6, 2007 - 13:09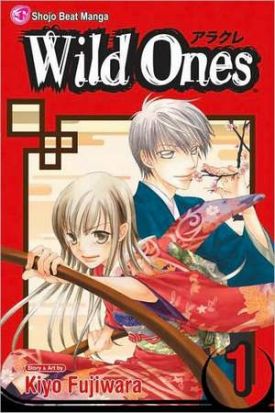 Thanks to barnesandnoble.com for the image.
After her mother dies, leaving her an orphan, 15-year-old
Sachie Wakamura
finds her maternal grandfather,
Raizo Asagi
, at her door. Turns out that he's the Lord of a yakuza clan, and she has to go live with him. Initially unhappy, she finds her ray of sunshine in
Rakuto Igarashi
, a high school age clan member who becomes her protector.
Sachie and Rakuto both attend Nagi High, where Rakuto is the most popular boy in school and president of the student body. Although all the girls in school are crazy for him (and don't know he's yakuza), Rakuto is secretly in love with Sachie, but he can never show his feelings for his boss' granddaughter. Sachie also has strong feelings for Rakuto, and as she tries to fit into her new family, the thing that gives her the most trouble is seizing her chance at love.
THE LOWDOWN: There is no doubt that Wild Ones, Vol. 1 opens with an excellent premise – an orphaned girl finds out that her bloodline is organized crime and she falls in love with a family retainer. Manga-ka Kiyo Fujiwara, however, never really mines this premise for what it's worth, at least not in the stories that make up this first volume. Where's the dramatic tension of a teenaged girl who has to move in with the yakuza (Japanese organized crime)? Where's the danger? Why is it that a forbidden love that must stay hidden turns out to be no big deal when revealed?
Wild One's is more like a mild fish out of water story, and the narrative focuses more on two kids pining for love than crime plots. It's not bad, but it's not so good, either. Fujiwara's lovely comic art with its illustrative quality is the real treat here, and it's the reason to keep turning the page.
POSSIBLE AUDIENCE: Wild Ones is part of VIZ Media's "Shojo Beat" line of girls' comics, and its appeal will likely stay with that audience.
B-
Buy a wild one at the Amazon aStore.
Last Updated: January 24, 2022 - 11:00