Wild @ Heart: Volume 1/2/3
By Leroy Douresseaux
Nov 6, 2010 - 19:59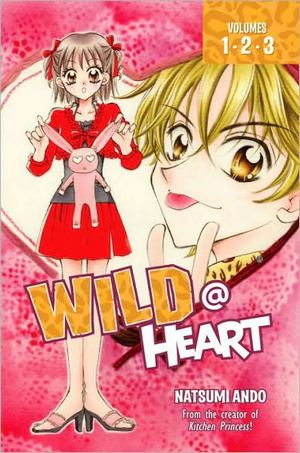 Wild @ Heart Vol. 1/2/3 cover image is courtesy of barnesandnoble.com.
Rating "Y" for "Ages 10+"
Wild @ Heart is a shojo manga from Natsumi Ando, the creator of Kitchen Princess and the recent Arisa. Wild @ Heart follows the romance and misadventures of a teen girl and a jungle boy. Originally published by Kodansha in Japan, Wild @ Heart is published in North American by Del Rey Manga. Del Rey recently gathered the entire series in one handy, mini-omnibus edition, Wild @ Heart, Vol. 1/2/3.
The protagonist of Wild @ Heart is Chino Kazaoka, whose father is a novelist and adventurer (extreme traveler?). He travels around the world and writes about his travels. On Madara Island, off the southeastern coast of Africa, Chino's father finds a boy raised by animals. The boy rescues Chino's father who names the boy "Hyo" (Japanese for "leopard") and brings him back to Japan to raise as his own son. Although he is very cute, even handsome, Hyo is quite uncivilized, which drives Chino crazy and embarrasses her at school. However, she gradually falls in love with Hyo, and the series traces the ups and downs of their relationship.
Wild @ Heart Vol. 1/2/3 also contains two bonus stories by Natsumi Ando, the shojo Halloween novella, "Wild Night at the Haunted Apartment" and the kissing-themed, "7Days 'til the Kiss."
Wild @ Heart is shojo romance for preteens. It is super-cutesy and is more silly than romantic. Del Rey gives this series a "Y Ages 10+" rating, which probably means that this age group expects that love is supposed to involve laughs and silly antics. Frothy love stories filled with laughter and sometimes tears, featuring warm-hearted, generous heroines is what Ando does best. So like her other work, Wild @ Heart is an enjoyable read even for those who have long past 10 years of age.
B+
Last Updated: Jun 26, 2018 - 9:28