What a Wonderful World!: Volume 2
By Leroy Douresseaux
October 26, 2009 - 12:55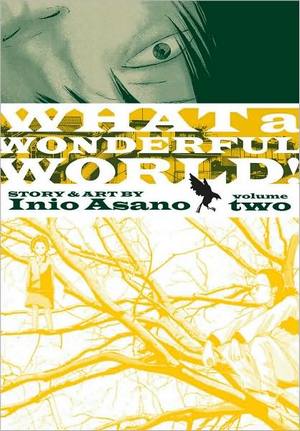 What a Wonderful World Volume 2 cover image is courtesy of barnesandnoble.com.
Rated "T+" for "Older Teen"
The copy on the back of each volume of What a Wonderful World! reads "The cruelty of childhood. The delusion of adulthood. The endurance of death. Laugh in the face of reality." This two volume series, written and drawn by Inio Asano (Solanin), is comprised of a series of intersecting vignettes that explore the lives of a group of young people and some older characters. These short stories do indeed depict cruelty, delusion, death, as well as probe the after effects of such, but in the end, these stories seem to be most about laughing in the face of reality.
What a Wonderful World! Vol. 2 presents several characters struggling with modern life. In "Bird Week," the son of a doctor is obsessed with being better than his father. In "After the Rain," an orphaned girl who lives with her older brother and sister finds the development of the tadpole into the frog to be a metaphor for the course of her life. In "Sandcastle," a loner has difficulty accepting that her childhood friend, once also an outcast, is now the popular girl. A man who works for a porn magazine publisher ignores his wife and infant daughter in "Good Night." And a family feud and ramen shop rivalry take center stage in "The Moon & Fish Cakes."
More so than he did in the stories included in the first volume of What a Wonderful World!, Inio Asano offers people wrestling with modern life, an existence that can be surprisingly beautiful, but also characteristically ugly. The way he can balance and compare and contrast what is celebrated and what is ridiculous about life is what is most engaging about this second volume, the deeper the reader gets into the book.
When Asano depicts malaise, self-doubt, and confusion, he suggests that characters who dwell on those things are wasting their lives. Instead, he practically declares, to both his characters and his readers, that they should recognize that life is precious, which is done by accepting the inevitability and endurance of death. So laugh, everyone! Asano's amazing art, with its stylish, Film-Noir take on realism, certainly expresses an appreciation of every moment of life and of every bit of existence.
A-
Last Updated: August 31, 2023 - 08:12