What a Wonderful World!: Volume 1
By Leroy Douresseaux
October 18, 2009 - 14:32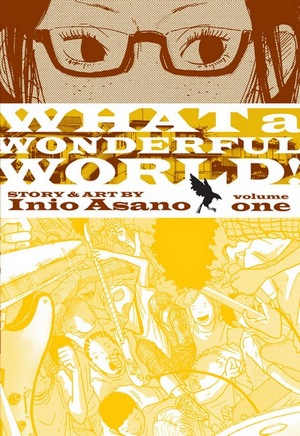 What a Wonderful World Volume 1 cover image is courtesy of barnesnandnoble.com.
Rated "T+" for "Older Teen"
…I feel lighter now that I don't have to carry around the weight of that dream.
The above gem of a quote appears near the end of What a Wonderful World!, Vol. 1. Written and drawn by Inio Asano, What a Wonderful World! is a two-volume narrative comprised of a series of intersecting vignettes that explore the lives of a group of young people. Like the characters of Asano's Solanin, these young people are at that ever-present crossroads, struggling with their futures and searching for their places in the workaday, adult world.
Asano is very good at depicting the malaise, self-doubt, confusion, etc. of young people who have not made concrete plans for the future. These are 20-somethings who are staring down the reality gun barrel while they wrestle with their dreams and ambitions. Asano understands the complicated interior lives of young people. These are lives filled with hope, but also plagued by befuddlement and worry. Asano's depiction of such lives, both their private and public sides, makes for engaging drama. Asana's graphic style, kind of like a blend of Daniel Clowes and Adrian Tomine, is pitch-perfect for these stories, which read and feel like American alt-comix.
Asano's ability to create engaging characters that will make the reader care about their lives and dilemmas can itself be a problem – when there are too many characters vying for the spotlight. Because there are so many characters, this first volume of What a Wonderful World! sometimes seems to lack focus. By emphasizing a general theme filtered through multiple characters rather than concentrating on one character, this narrative is more ephemeral than profound, because it is scattered to too many points of view. There is nothing wrong with looking at the lives of several characters, but one of them should be the center around which the others' stories orbit.
B
Last Updated: August 31, 2023 - 08:12