Comics / Manga / Yaoi Manga
Kiriko Fuwa's Weekend Lovers (Yaoi)
By Leroy Douresseaux
Jul 9, 2008 - 7:16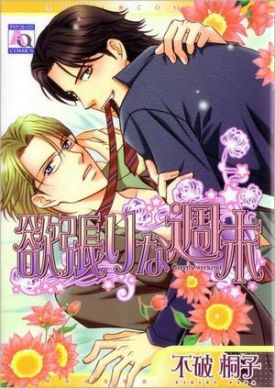 Thanks to barnesandnoble.com for the image. English cover copy replaces the Japanese text for 801's edition.
"18+ Mature Content"
Koutarou is a boisterous and mischievous temp worker. Asashi Shinosaki is an elite salaried man – serious and cultured. The two are also lovers, in spite of their differences in temperament and social standing, but when Koutarou discovers that Asashi has been working late hours with his co-worker Terada, he's suspicious. When Koutarou hears the office rumors about an affair between Asashi and Terada, he's determined to fight for his man.
In the manga short story collection, Weekend Lovers, the short story suite "Weekend Lovers (the title story)," Selfish Weekend," and "Selfish Weekend Extra," is merely the mild first course in a collection of hot and steamy yaoi manga (stories that feature explicit sex between males). As sexy as the "Weekend Lovers," tales are, the other tales burn with a hotter blood. A video store manager dreams of turning a subordinate into a bondage slave in "Fragments of Glass and Dark Water. "Cage" takes us to an office where office politics are decided by who is on top, and "Servant and Service" flips and spins the master/butler relationship.
There is really no delicate way to … put this, but in Weekend Lovers joy is measured in rigid erections and furtive humping. Those who prefer their yaoi manga on the randy side will love these funny, horny tales.
B+
Last Updated: Jun 26, 2018 - 9:28