Comics / Comic Reviews / More Comics
Voltron Force Volume 1: Shelter from the Storm
By Leroy Douresseaux
April 22, 2012 - 15:34
Recommended for ages 7 and up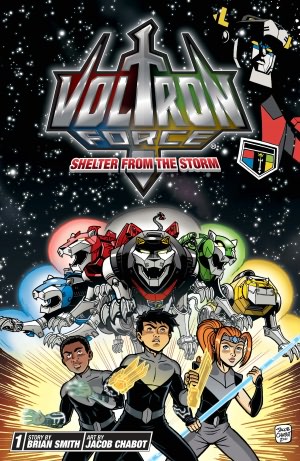 Voltron Force Volume 1 Shelter from the Storm cover image
In the 1980s, the anime series,
Voltron
, introduced readers to a super robot that was created when five robot lions joined together to form a single unit. These five robot lions were commanded by five, highly-trained pilots known as Voltron Force.
VIZ Media recently announced
Voltron Force
, a new graphic novel series that complements the animated series, also entitled "Voltron Force," that is airing on Nicktoons. The graphic novels will focus on three cadets that are training under the guidance of the
Voltron Force Pilots
in order for this trio to become the next generation of
Voltron Force
.
Voltron Force Vol. 1: Shelter from the Storm
introduces three Voltron Force cadets: fearless but impulsive,
Daniel
; martial artist and royal,
Larmina
; and book smart and tech-savvy
Vince
. They have talent and potential, but they do not work well together.
Meanwhile, the ruler of the
Drule Empire
,
King Lotor
, is determined to destroy
Voltron
. He and his minion, the devious techno-scientist,
Maahox
, have just unleashed a horrifying storm that may destroy Voltron. When Daniel, Larmina, and Vince get sucked into the storm, their worst nightmares come true.
THE LOWDOWN:
I was surprised to receive a review copy of the first of the
Voltron Force
graphic novel from VIZ Media. That gift turned into a good reading experience.
Voltron Force Vol. 1: Shelter from the Storm
is like a Marvel Adventures of Johnny DC comic book for preteen readers. It has good character writing, but the storytelling's emphasis is on team-building. A cadet has to overcome an adversary that ties into a personal shortcoming or psychological issue. If that sounds boring, it isn't. This is as good as or better than many superhero comic books.
The script by
Brian Smith
, a former Marvel Comics editor who worked on such titles as
The Ultimates
,
Ultimate Spider-Man
, and
Iron Man
, among others, is tight and efficient and full of nice action scenes. The art by
Jacob Chabot
is the same quality of the art found in Marvel and DC Comics' kids' titles, but with a style that is closer to action cartoon animation. My verdict is – give me more.
POSSIBLE AUDIENCE:
Readers looking for quality kids' comics will definitely find it in
Voltron Force Vol. 1: Shelter from the Storm
.
B+
Last Updated: August 31, 2023 - 08:12