VIZ Media Acquires Home Media Rights to Netflix's "Castlevania"
By The Editor
July 24, 2018 - 19:47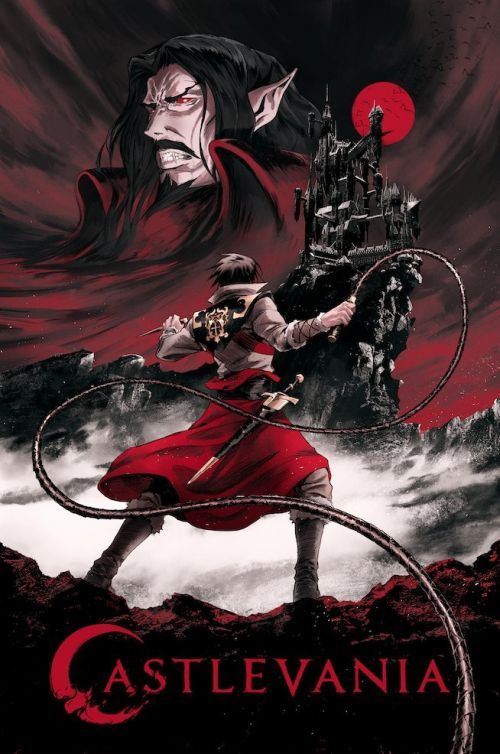 Netflix's Castlevania Season 1 key art
VIZ MEDIA ANNOUNCES THE ACQUISITION OF GOTHIC FANTASY ANIME SERIES CASTLEVANIA

VIZ Media Acquires Home Media Rights To Season 1 Of The Hit Netflix Animated Series CASTLEVANIA

VIZ Media, LLC (VIZ Media), a premier company in the fields of publishing, animation distribution, and global entertainment licensing, expands its catalog with the acquisition of Season 1 of CASTLEVANIA.

VIZ Media announced the acquisition of CASTLEVANIA during its official panel held this past weekend at Comic-Con International, one of the nation's biggest annual pop culture conventions. VIZ Media has acquired home media distribution rights to the American anime-influenced series, which is produced by Frederator Studios. CASTLEVANIA Season 1 has streamed to wide acclaim on Netflix.

Inspired by the classic video game series, CASTLEVANIA is a dark medieval fantasy following the last surviving member of the disgraced Belmont clan, trying to save Eastern Europe from extinction at the hand of Vlad Dracula Tepes himself. In Season 1, Trevor Belmont, embittered and excommunicated, finds himself drawn into a battle for the survival of Europe – a region that has brought doom upon itself by taking away the one thing its greatest monster loved.

"We are very excited to announce VIZ Media's acquisition of the CASTLEVANIA animated series," says Brian Ige, VIZ Media's Vice President of Animation. "The series has drawn a wide following and we look forward to giving new and existing fans the opportunity to add this adventure to their personal collections."

"CASTLEVANIA is one of those unique series that had instant global recognition and popularity. Frederator is proud to have VIZ as one of our special global partners, singularly equipped to reach our fans across the world," says Fred Seibert, President & CEO of Frederator Networks.

VIZ Media has worked with Frederator Studios and Frederator Networks to license publishing titles based on popular properties from the company's catalogs including BRAVEST WARRIORS, the acclaimed animated series from Pendleton Ward, the visionary creator of the Emmy Award-winning Cartoon Network show, Adventure Time. VIZ Media also published EASY EATS: A BEE AND PUPPYCAT COOKBOOK, inspired by the hit animated web series, Bee and PuppyCat, which was produced by Frederator Studios and seen widely on Frederator Network's Cartoon Hangover web channel.

For additional information on CASTLEVANIA and other anime and manga titles distributed and published by VIZ Media, please visit viz.com.

About VIZ Media, LLC
Established in 1986, VIZ Media is the premier company in the fields of publishing, animation distribution, and global entertainment licensing. Along with its popular digital magazine WEEKLY SHONEN JUMP and blockbuster properties like NARUTO, DRAGON BALL, SAILOR MOON, and POKÉMON, VIZ Media offers an extensive library of titles and original content in a wide variety of book and video formats, as well as through official licensed merchandise. Owned by three of Japan's largest publishing and entertainment companies, Shueisha Inc., Shogakukan Inc., and Shogakukan-Shueisha Productions, Co., Ltd., VIZ Media is dedicated to bringing the best titles for English-speaking audiences worldwide.

Learn more about VIZ Media and its properties at viz.com.

About Frederator Networks
Frederator Networks, A WOW! Unlimited Media company, consists of Frederator Studios and Frederator Digital.

Frederator Studios makes cartoons for television, movies, and the Internet. It was founded by serial media entrepreneur and former Hanna-Barbera president Fred Seibert in 1998 as a unique incubator for big animation ideas by producing original cartoons. More than 250 short films have resulted in 17 hit series for television and the Internet, including Bee and PuppyCat, Butch Hartman's The Fairly OddParents on Nickelodeon, and Pendleton Ward's Adventure Time on Cartoon Network.

Frederator Digital programs many online channels including Channel Frederator, Cartoon Hangover, and The Leaderboard, as well as manages the Channel Frederator Network (YouTube-based entertainment multi-channel network). Launched in late 2012, Frederator's Cartoon Hangover channel includes Bee and PuppyCat, Bravest Warriors, as well as many new shorts from the world's future animation superstars. Frederator's Cartoon Hangover Select, a subscription video-on-demand channel, is exclusive to Ellation's VRV platform.

Frederator Networks has offices in Burbank, CA and New York, NY.

About WOW Unlimited Media Inc.
WOW Unlimited Media Inc. is creating a leading next-generation kids and youth animation business by focusing on digital platforms and content. The company's key assets include: the world's #1 digital animation network (Frederator Networks), one of Canada's largest, multi-faceted animation production studios (Rainmaker Entertainment), one of the most successful U.S.-based independent animation production companies of the past 20 years (Frederator Studios) and multiple owned and operated VOD channels on digital platforms, including its latest launch of Cartoon Hangover Select on Ellation Media's VRV platform. Bell Media is the company's strategic partner. The company operates out of offices in Toronto, New York, Vancouver and Los Angeles, and is listed on the TSX Venture Exchange (TSX-V: WOW.A and WOW.B).





Last Updated: February 5, 2023 - 09:06