VIZ Media Announces Arrival of "Everyone's Getting Married"
By The Editor
June 21, 2016 - 22:27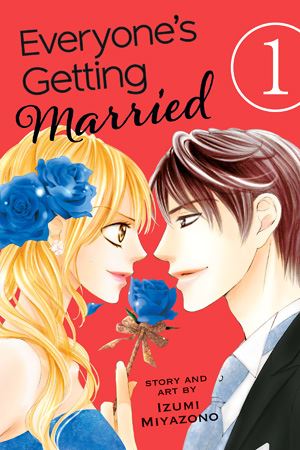 Everyone's Getting Married Volume 1 cover image
VIZ MEDIA ANNOUNCES THE LAUNCH OF NEW JOSEI SERIES EVERYONE'S GETTING MARRIED
Romantic Comedy About A Career Woman's Quest For Wedded Bliss Debuts In Print And Digitally This Summer
VIZ Media, LLC (VIZ Media), a premiere company in the field of publishing, animation distribution, and global entertainment licensing, launches a new josei manga series about a career woman's pursuit of a committed relationship with the debut of EVERYONE'S GETTING MARRIED, available today.
The new series, by creator Izumi Miyazono, is rated 'M' for Mature readers and carries a print MSRP of $9.99 U.S. / $12.99 CAN. The series is also available digitally via VIZManga.com and the VIZ Manga App, as well as from the Nook, Kobo, Kindle, iBooks, comiXology, and GooglePlay stores. Subsequent volumes of the continuing series will be published in English three times a year.
Successful career woman Asuka Takanashi has an old-fashioned dream of getting married and becoming a housewife. After her long-term boyfriend breaks up with her to pursue his own career goals, she encounters popular newscaster Ryu Nanami. Asuka and Ryu get along well, but the last thing he wants is to ever get married. This levelheaded pair who want the opposite things in life should never get involved, except…
"EVERYONE'S GETTING MARRIED is a contemporary romance about two busy professionals who are trying to figure out their own happy ending," says Nancy Thistlethwaite, Senior Editor. "This series will appeal to our adult readers as well as fans of Japanese and Korean romantic TV dramas—except this is steamier!"
Manga creator Izumi Miyazono debuted in 2005 with Shunmin Shohousen (A Prescription for Sleep). In 2014 she began EVERYONE'S GETTING MARRIED, which is serialized in Japan in Petit Comic.
For more information on titles available from VIZ Media, please visit www.VIZ.com.
Last Updated: February 5, 2023 - 09:06