VIZ Media Announces "Boruto: Naruto the Movie" Release Dates
By The Editor
December 4, 2015 - 23:48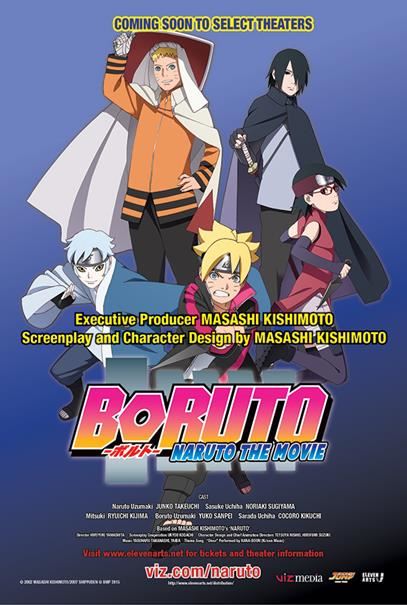 Boruto: Naruto the Movie movie poster
VIZ MEDIA, ELEVEN ARTS AND FATHOM EVENTS ANNOUNCE BORUTO: NARUTO THE MOVIE EVENT IN CINEMAS FOR TWO DAYS ONLY!
Action-Filled Anime Adventure Depicts The Rebellious Son Of The Legendary Ninja Naruto; Special Events on December 13th and 14th To Feature A Special Introduction By NARUTO Creator Masashi Kishimoto
VIZ Media, LLC (VIZ Media), the largest publisher, distributor and licensor of manga and anime in North America, along with Los Angeles-based film distribution company, ELEVEN ARTS, and event cinema distribution leader FATHOM EVENTS, give NARUTO fans a final opportunity to catch BORUTO: NARUTO THE MOVIE in cinemas as the critically acclaimed anime action feature plays at approximately 200 theaters across the U.S. on Sunday, December 13th at 12:55 p.m. local time and Monday, December 14th at 7:00 p.m. local time.
BORUTO: NARUTO THE MOVIE will be presented with its original Japanese dialogue and English subtitles. For a comprehensive list of all participating theater locations and to purchase advance tickets, please visit: www.fathomevents.com or www.elevenarts.net.
To view a trailer for BORUTO: NARUTO THE MOVIE, please visit: https://www.youtube.com/watch?v=Cvdv2GGnn0A
The BORUTO: NARUTO THE MOVIE event will feature a special introduction and opening remarks by Masashi Kishimoto, the film's executive producer and the creator of the bestselling manga series (also published by VIZ Media) on which the film's characters are based, as well as Junko Takeuchi, the famed Japanese voice actor of the Naruto character. Their remarks were taped at the premiere of BORUTO: NARUTO THE MOVIE at the Hammerstein Ballroom during the pair's first-ever U.S. appearance at this year's New York Comic Con.
In BORUTO: NARUTO THE MOVIE, famed ninja, Naruto Uzumaki protects the Hidden Leaf Village as the Seventh Hokage, while Boruto, his troublesome son, resents his father's responsibilities that take his time away from him. Seeing this, Sasuke takes Boruto under his wing, while Sasuke's only daughter, Sarada, dreams of being Hokage one day.
With Naruto as the Seventh Hokage, the Hidden Leaf Village plans to host the Chunin Exams to train new shinobi from the village and from their allied villages. Among the entrants are Sasuke's daughter, Sarada, Mitsuki, an exceptionally talented yet mysterious shinobi… and Boruto, Naruto's talented but impetuous son. Meanwhile, Sasuke who's been on a mission in another dimension appears before Naruto to warn of a strange impending danger. Shrouded with an evil aura, Momoshiki and Kinshiki appear and attempt to assassinate Naruto. Petrified, Boruto is shielded by Naruto, only to disappear in front of Boruto's own eyes!
"BORUTO: NARUTO THE MOVIE has been widely lauded by fans and critics alike and serves as a must-see capstone to the epic anime/manga series created by Masashi Kishimoto," says Charlene Ingram, Senior Animation Marketing Manager. "Following all of the excitement that surrounded his appearance at the 2015 New York Comic Con, we're honored to bring BORUTO back to every state and major city in the U.S. for its most extensive theatrical run ever. Don't miss this special opportunity to catch all of the action and drama on the big screen!"
For more information on NARUTO anime, manga and feature film titles, please visit: viz.com/naruto.
Last Updated: September 6, 2021 - 08:15