Perfect Square Announces "Hello Kitty: It's About Time"
By The Editor
February 4, 2015 - 22:31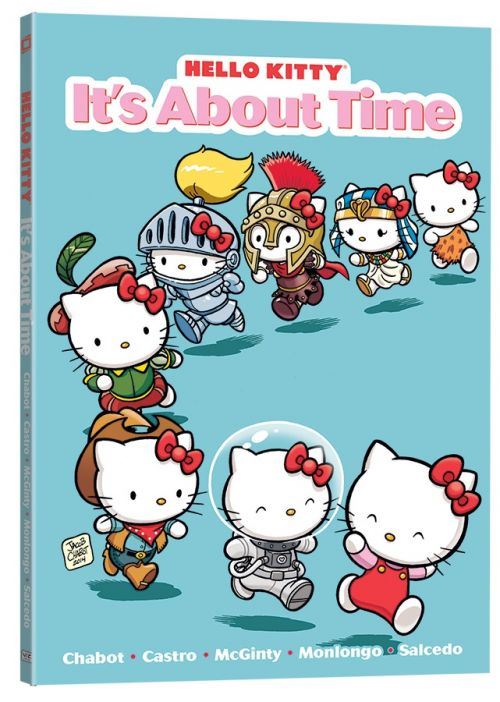 Hello Kitty: It's About Time cover image 3D view
HELLO KITTY® PACKS HER SCHEDULE WITH FUN IN THE LATEST ORIGINAL GRAPHIC NOVEL RELEASE FROM PERFECT SQUARE

Adventure In The Past, Present And Future In HELLO KITTY: IT'S ABOUT TIME
VIZ Media, LLC (VIZ Media), the largest distributor and licensor of anime and manga in North America, invites readers of all ages to set an appointment for fun with the graphic novel debut today of HELLO KITTY: IT'S ABOUT TIME. The new edition joins the expanding roster of original HELLO KITTY graphic novels published by the Perfect Square imprint.
HELLO KITTY: IT'S ABOUT TIME is rated 'A' for All Ages and will carry an MSRP of $7.99 U.S. / $9.99 CAN. This newest addition to the HELLO KITTY series of graphic novels depicts original, full-color adventures of the iconic Sanrio character and brings back the talented artistic team of Jacob Chabot, Ian McGinty, Jorge Monlongo, and Giovanni Castro, and also presents special guest artist Erica Salcedo.
Let the good times roll! It's time for beach parties, dance contests, last-minute birthday gifts and time machines! Plus, journey inside a cuckoo clock and much, much more! Past, present or future, Hello Kitty and her friends are having a blast!
Don't miss other full-color HELLO KITTY original graphic novel titles now available in print from Perfect Square including, HELLO KITTY: HERE WE GO!, HELLO KITTY: SURPRISE!, HELLO KITTY: DELICIOUS!, HELLO KITTY: WORK OF ART and HELLO KITTY: JUST IMAGINE!, as well as the hardcover HELLO KITTY, HELLO 40 commemorative story and art anthology.
Hello Kitty® is a true lifestyle brand that enjoys tremendous international popularity. The global pop icon is loved by fans of all ages, as evidenced by more than 15 million followers on her Facebook page!
"Hello Kitty and her friends are off on exciting exploits near and far, taking readers to the past, present and future in this fun new collection of adventures," says Beth Kawasaki, Perfect Square's Senior Editorial Director. "The latest Perfect Square graphic novel release is guaranteed to bring smiles to fans of all ages."
HELLO KITTY artist Jacob Chabot is a prolific New York City-based cartoonist, illustrator and writer. His comics have appeared in publications such as Nickelodeon Magazine, Mad Magazine, SpongeBob SquarePants comics, and various Marvel titles. He also illustrated HELLO KITTY editions including JUST IMAGINE!, HERE WE GO!, DELICIOUS! and SURPRISE!, as well as Voltron Force: Shelter from the Storm and Voltron Force: True Colors for Perfect Square. His comic series, The Mighty Skullboy Army, is published by Dark Horse, and in 2008 Chabot was also nominated for an Eisner Award for Best Book for Teens.
Book and comic illustrator and game designer Jorge Monlongo hails from Spain and combines traditional and digital techniques to create worlds in beautiful colors that hide secrets. IT'S ABOUT TIME is his latest HELLO KITTY title for VIZ Media/Perfect Square and his work has also been featured in Mr. Peabody and Sherman comics published by IDW and in several prominent magazines, including Rolling Stone.
Artist Ian McGinty resides in Savannah, Georgia, and his portfolio includes Adventure Time: Candy Capers (kaBoom!), Bravest Warriors (kaBoom!), HELLO KITTY (VIZ Media), UGLYDOLL (VIZ Media), and Suckers (Zenescope). He is also creator of Chomp! (Top Shelf).
Artist Giovanni Castro was born in Colombia, studied art there, and now lives and works in Barcelona, Spain. He works mainly in editorial illustration and comics. Castro has worked with traditional media, but nowadays he does his illustrations digitally. He loves science fiction and historical themes and is interested in history, art and languages.
Erica Salcedo is a freelance illustrator living in Cuenca (Spain). Her work is largely focused on children's illustration inspired by her everyday life.
VIZ Media's Perfect Square imprint focuses on delivering original comics, manga (graphic novels) and other children's books with an emphasis on strong storytelling, eye-popping graphics, empowering themes, and a dash of irreverence, that captures the imagination of a whole new generation.
Additional information on titles published by Perfect Square is available at www.PerfectSquare.com.
For more information on other manga titles from VIZ Media, please visit www.VIZ.com.
About Sanrio®
Sanrio is the global lifestyle brand best known for pop icon Hello Kitty®, who recently celebrated her 40th Anniversary. Home to many endearing characters including Chococat® My Melody®, Badtz-Maru® and Keroppi®, Sanrio was founded on the 'small gift, big smile®' philosophy – that a small gift can bring happiness and friendship to people of all ages. Since 1960, this philosophy has served as the inspiration for the broad spectrum of unique products and experiences. Today, more than 50,000 Sanrio-branded items are available in over 130 countries and upwards of 15,000 U.S. retail locations including department, specialty, national chain stores and over 80 Sanrio boutiques. For more information please visit www.sanrio.com and www.facebook.com/hellokitty
Last Updated: August 31, 2023 - 08:12