VIZ Media Announces Coppelion Anime Set
By The Editor
January 29, 2015 - 23:33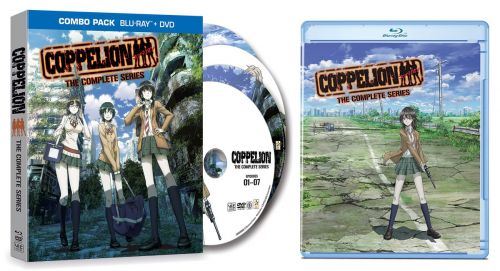 Coppelion Complete Set box art 3D image
VIZ MEDIA ANNOUNCES THE HOME MEDIA RELEASE OF COPPELION ANIME SERIES
After A Catastrophe Contaminates Japan's Old Capital, Three Genetically Engineered Girls Embark To Rescue Survivors; Complete Series Released As DVD/Blu-Ray Combo Pack
VIZ Media, LLC (VIZ Media), the largest distributor and licensor of manga and anime in North America, brings the sci-fi action of COPPELION to fans as it announces the home media release of the 13-episode anime series as a Blu-ray/DVD Combo Pack on February 3rd.
COPPELION will be released in a comprehensive edition containing 2 DVDs and 2 Blu-ray discs, offering 16:9 video and 1080p High Definition resolution, housed in an illustrated chipboard box. In addition to the complete series, bonus features include clean opening and ending segments and original series trailers. A bonus COPPELION production art gallery is also included. MSRP will be $69.99 U.S. / $81.99 CAN.
In the not-so-distant future, a catastrophic event has turned the old capital of Japan into a wasteland, forever changing the lives of its people. Decades later, three schoolgirls set foot into the now forsaken city. They are the Coppelion, genetically engineered humans created by the Japan Ground Self-Defense Force to operate under the lethal conditions of the contaminated city. Trained since birth, the girls must use all of their skills and resources to carry out their one and only mission: to rescue those left behind.
"Ibara, Aoi and Taeko comprise the Coppelion, three genetically engineered girls that seek to rescue forgotten survivors in the smashes ruins of the Old Capital and uncover a dark secret about themselves in the process," says Charlene Ingram, Senior Marketing Manager, Animation. "This new Combo Pack release fittingly presents the gripping series in its entirety and gives fans the opportunity to add this lushly animated adventure to their personal collections."
COPPELION is the animated adaptation of the popular manga series created by Tomonori Inoue, which ran in Japan in Monthly Young Magazine, and was produced by GoHands, the award winning studio that also produced the anime series, K (also distributed by VIZ Media).
For more information on COPPELION or other award-winning anime titles available from VIZ Media, please visit www.VIZ.com.
Last Updated: February 5, 2023 - 09:06