VIZ Media and Perfect Square Celebrate Voltron
By The Editor
October 20, 2014 - 23:24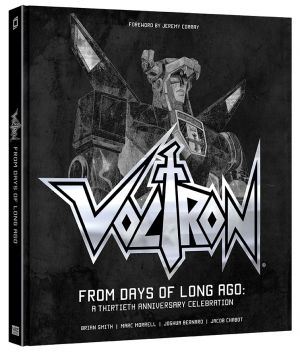 VOLTRON: FROM DAYS OF LONG AGO, A 30th ANNIVERSARY CELEBRATION cover iamge
VIZ MEDIA'S PERFECT SQUARE ANNOUNCES SPECIAL VOLTRON® 30th ANNIVERSARY COMMEMORATIVE RELEASE
VOLTRON: FROM DAYS OF LONG AGO – A 30th ANNIVERSARY CELEBRATION Charts The History And Impact of The Iconic Franchise On Pop Culture
VIZ Media, LLC (VIZ Media), the largest distributor and licensor of anime and manga in North America, takes readers on an exciting journey to explore the history and legacy of VOLTRON®, the legendary giant robot anime series that marks the 30th Anniversary of its original North American broadcast premiere.
VOLTRON: FROM DAYS OF LONG AGO, A 30th ANNIVERSARY CELEBRATION examines the entire VOLTRON universe and the property's notable impact on pop culture and will be released in-print on October 28th from the company's Perfect Square imprint. The hardcover oversized edition will carry an MSRP of $29.99 U.S. / $34.99 CAN.
A digital version of VOLTRON: FROM DAYS OF LONG AGO, A 30th ANNIVERSARY CELEBRATION also will launch on October 28th for $14.99 U.S. / CAN from the Perfect Square App, which has titles available for the Apple iPad® and iPad® Mini. The Perfect Square App is available from the iTunes store. Readers also will be able to find a digital version for the NOOK, Kindle Fire, and Kobo eReaders, as well as in the iBooks and GooglePlay Stores.
Thirty years ago, Voltron: Defender of the Universe hit the airwaves, and the world hasn't been the same. Now, VOLTRON: FROM DAYS OF LONG AGO chronicles the story of VOLTRON and its cultural relevance, taking a detailed look at the story behind the show and the many related toy releases, the mythology of both Lion Force and Vehicle Voltron (with a nod to Albegas), and concludes the exciting Voltron Force saga. This new book is truly for fans, by fans: authored by Brian Smith, a former Marvel Comics editor and writer for Perfect Square's VOLTRON FORCE® series of original graphic novels, Marc Morrell, co-host of the official "Let's Voltron!" podcast, and Joshua Bernard, founder of CollectionDX, a popular website devoted to covering the world of Japanese toys, action figures and pop culture; with a bonus VOLTRON comic written by Smith and illustrated by Jacob Chabot, artist on the VOLTRON FORCE series; with a foreword by Jeremy Corray, former Creative Director of World Events Productions, the company behind the classic Voltron TV series.
"Voltron premiered on North American television in 1984 and the media landscape changed forever. There are so many VOLTRON fans, and we wanted to both honor their devotion and invite them to be a part of this project," says Traci Todd, Senior Editor. "VOLTRON: FROM DAYS OF LONG AGO, A 30th ANNIVERSARY CELEBRATION offers fans a treasure trove of insights, history, and little-known facts about the evolution of the series and the show's lasting pop culture impact."
Additional information on VOLTRON FORCE and other titles published by Perfect Square is available at www.PerfectSquare.com.
For more information on manga and other titles from VIZ Media, please visit www.VIZ.com.
Last Updated: February 5, 2023 - 09:06