VIZ Media Announces "Honey Blood"
By The Editor
Sep 29, 2014 - 11:04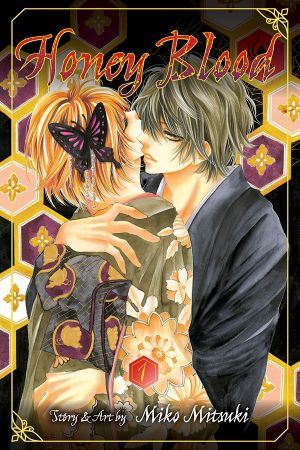 Honey Blood Volume 1 cover image
VIZ MEDIA MIXES SWEET PASSION AND DARK INTRIGUE IN THE NEW MANGA SERIES HONEY BLOOD
A Beautiful Girl Falls For The Old-World Charm Of A Mysterious Vampire Romance Writer—With His Own Taste For Blood!

New Shojo Series Launches In Print And Digitally!

VIZ Media, LLC (VIZ Media), the largest distributor and licensor of manga and anime in North America, opens Fall with a fiery mixture of bloodthirsty romance and supernatural intrigue in Miko Mitsuki's shojo manga series – HONEY BLOOD. Set for release under the Shojo Beat imprint, Volume 1 of the 3-part series launches on October 7th and is rated 'T' for Teens. Print volumes each carry an MSRP of $9.99 U.S. / $12.99 CAN.
In the opening volume, everyone is on edge when a girl at Hinata Sorazono's school is attacked by what seems to be a bloodsucking vampire. Hinata refuses to believe that vampires even exist, but then she meets her new neighbor, Junya Tokinaga, the author of an incredibly popular vampire romance novel. Dressed in a kimono with an old-world air about him, Junya has a taste of Hinata's blood and tells her it's sweet... Hinata can't help but be drawn to Junya, but could it be that he's actually a vampire—and worse yet, the culprit behind the attacks?!
"Junya Tokinaga is a mysterious and handsome man, so readers will swoon along with Hinata and become captivated by his complicated past and the bloodthirsty secret he hides," says Amy Yu, Editor. "The stage is set for charged passion and love in this sultry series from Miko Mitsuki."
HONEY BLOOD creator Miko Mitsuki hails from Kagoshima Prefecture in southernmost Japan and debuted with the manga title, Utakata, in 2003. She is currently working on projects for Sho-Comi magazine.
For more information on HONEY BLOOD, or other shojo manga titles from VIZ Media, please visit www.VIZ.com.
Last Updated: Jun 26, 2018 - 9:28