VIZ Media's Perfect Square Has "Hello Kitty: Just Imagine"
By The Editor
August 29, 2014 - 09:08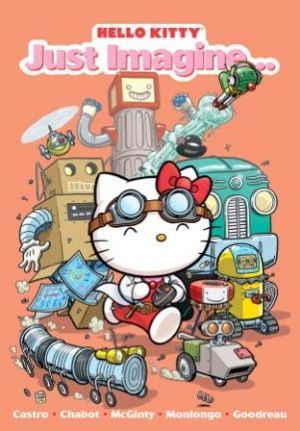 Hello Kitty: Just Imagine... cover image
HELLO KITTY® SHOWS ANYTHING IS POSSIBLE IF ONE JUST IMAGINES IN ORIGINAL GRAPHIC NOVEL RELEASE FROM PERFECT SQUARE
Creativity And Friendship Combine In New All Ages Release HELLO KITTY: JUST IMAGINE
VIZ Media, LLC (VIZ Media), the largest distributor and licensor of anime and manga in North America, invites readers of all ages to tap their creative sides for some whimsical new graphic novel adventures with the release of HELLO KITTY: JUST IMAGINE, available now.
HELLO KITTY: JUST IMAGINE is published under the Perfect Square imprint and expands the line of full-color HELLO KITTY® original graphic novels inspired by the global pop icon. JUST IMAGINE brings back the talented team of HELLO KITTY artists including Jacob Chabot, Ian McGinty and Jorge Monlongo, and introduces artist Giovanni Castro and special guest artist Sarah Goodreau. HELLO KITTY: JUST IMAGINE is rated 'A' for All Ages and will carry an MSRP of $7.99 U.S. / $9.99 CAN.
Anything is possible if you just imagine...
Hello Kitty and her friends are letting their imaginations run wild – dreaming up rainy day adventures, inventing amazing machines and solving problems in the most inventive ways. When creativity and friendship combine, the possibilities are endless!
"As Hello Kitty marks her 40th anniversary she's as popular as ever, keeping up with the maker movement in HELLO KITTY: JUST IMAGINE," says Traci Todd, Senior Editor, Children's Publishing. "We hope the young and young at heart will enjoy these new stories and discover their own spirits of creativity and inspiration as well."
Don't miss additional full-color HELLO KITTY original graphic novel titles available in-print from Perfect Square including, HELLO KITTY: HERE WE GO!, HELLO KITTY: SURPRISE!, and HELLO KITTY: DELICIOUS!, as well as the brand new HELLO KITTY, HELLO 40 commemorative story and art anthology.
Created by Sanrio, Hello Kitty® is a true lifestyle brand that enjoys tremendous international popularity. In North America, and throughout the world, Hello Kitty is a leading brand that is loved by fans of all ages. The pop icon has more than 14 million followers on Facebook.
HELLO KITTY artist Jacob Chabot is a prolific New York City-based cartoonist, illustrator and writer. His comics have appeared in publications such as Nickelodeon Magazine, Mad Magazine, SpongeBob SquarePants comics, and various Marvel titles. He also illustrated HELLO KITTY editions including HERE WE GO!, DELICIOUS! and SURPRISE!, as well as Voltron Force: Shelter from the Storm and Voltron Force: True Colors for Perfect Square. His comic series, The Mighty Skullboy Army, is published by Dark Horse, and in 2008 Chabot was also nominated for an Eisner Award for Best Book for Teens.
Artist Ian McGinty resides in Savannah, Georgia, and his portfolio includes Adventure Time: Candy Capers (kaBoom!), Bravest Warriors (kaBoom!), HELLO KITTY (VIZ Media), UGLYDOLL (VIZ Media), and Suckers (Zenescope). He is also creator of Chomp! (Top Shelf).
Book and comic illustrator and game designer Jorge Monlongo hails from Spain and combines traditional and digital techniques to create worlds in beautiful colors that hide secrets. JUST IMAGINE… is his latest HELLO KITTY title for VIZ Media/Perfect Square and his work has also been featured in several prominent magazines, including Rolling Stone.
Artist Giovanni Castro was born in Colombia, studied art there, and now lives and works in Barcelona, Spain. He works mainly in editorial illustration and comics. Castro has worked with traditional media, but nowadays he does his illustrations digitally. He loves science fiction and historical themes and is interested in history, art and languages.
HELLO KITTY guest artist Sarah Goodreau was born and raised in Massachusetts. Pursuing a lifetime interest in art, she traveled south to study at the Savannah College of Art and Design. Afterwards she spent three years as an illustrator in New York City until moving to Amsterdam where she currently resides.
VIZ Media's Perfect Square imprint focuses on delivering original comics, manga (graphic novels) and other children's books with an emphasis on strong storytelling, eye-popping graphics, empowering themes, and a dash of irreverence, that captures the imagination of a whole new generation.
Additional information on titles published by Perfect Square is available at www.PerfectSquare.com.
For more information on other manga titles from VIZ Media, please visit www.VIZ.com.
Last Updated: August 31, 2023 - 08:12