VIZ Media Has "Surprise" for Hello Kitty Fans
By The Editor
April 1, 2014 - 10:17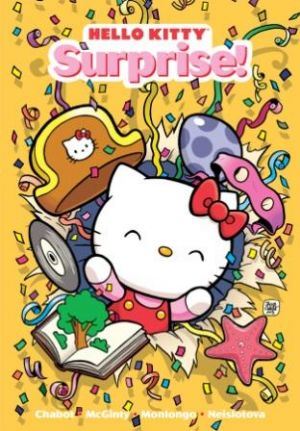 Hello Kitty; Surprise! cover image
VIZ MEDIA'S PERFECT SQUARE IMPRINT DELIVERS JOYOUS NEW HELLO KITTY® ADVENTURES WITH THE RELEASE OF HELLO KITTY: SURPRISE!
Expect The Unexpected In New Original Graphic Novel Release!
VIZ Media, LLC (VIZ Media), the largest distributor and licensor of anime and manga in North America, takes readers on a whimsical new outing from its Perfect Square imprint with the world's favorite pop culture icon and her adorable friends in the debut of HELLO KITTY: SURPRISE! on April 1st.
The latest full-color release in the ongoing HELLO KITTY® Perfect Square collection features seven new stories and three shorts centered around the theme of unexpected discoveries. HELLO KITTY: SURPRISE! reunites the creative team of Jacob Chabot (HELLO KITTY, VOLTRON FORCE), Jorge Monlongo (HELLO KITTY, MAMESHIBA), and Ian McGinty (UGLYDOLL), along with special guest artist Anastassia Neislotova. HELLO KITTY: SURPRISE! is rated 'A' for All Ages and carries a print MSRP of $7.99 U.S. / $9.99 CAN.
A digital version is also available for $4.99 U.S. / CAN from the Perfect Square App, which has titles available for the Apple iPad® and iPad® Mini. The Perfect Square App is available from the iTunes store. Fans can also find a digital version for the NOOK, Kindle Fire, and Kobo ereaders, as well as in the iBooks and GooglePlay Stores.
In HELLO KITTY: SURPRISE!, a day at the beach is more than just fun in the sun. A mysterious egg holds a tiny secret. Mama and Papa have a few secrets of their own. And a quiet afternoon with a good book is more exciting than Hello Kitty ever could have imagined! Plus, prepare to be amazed by Anastassia Neislotova's tales of wonder!
"In this third Hello Kitty release from Perfect Square, we really took the opportunity to play," says Traci Todd, Senior Editor, Children's Publishing. "Not only are there surprises in the storytelling (Just in time for April Fool's Day!), but a few unexpected characters show up as well. We hope readers have as much fun reading this volume as we had making it."
Jacob Chabot is a New York City-based cartoonist, illustrator and writer. His comics have appeared in publications such as Nickelodeon Magazine, Mad Magazine, SpongeBob SquarePants and The Simpsons comics, and various Marvel titles. He has illustrated three HELLO KITTY titles as well as Voltron Force: Shelter from the Storm and Voltron Force: True Colors for VIZ Media. His comic series, The Mighty Skullboy Army, is published by Dark Horse, and in 2008 Chabot was also nominated for an Eisner Award for Best Book for Teens.
Comic artist, book illustrator and game designer Jorge Monlongo hails from Spain and combines traditional and digital techniques to create worlds in beautiful colors that hide secrets. SUPRISE! is his third HELLO KITTY title for VIZ Media/Perfect Square and his work has also been featured in several prominent magazines, including Rolling Stone.
Artist Ian McGinty resides in Savannah, Georgia, and his portfolio includes Adventure Time: Candy Capers (kaBoom!), Bravest Warriors (kaBoom!), HELLO KITTY (VIZ Media), UGLYDOLL (VIZ Media), and Suckers (Zenescope). He is also creator of Chomp! (Top Shelf).
Anastassia Neislotova is a happy artist and children's book illustrator. She spends all her time creating nice illustrations and paintings, where she puts all her love and kindness. She loves making people smile. She feels very happy when her art can provoke positive emotions in people, and for this she is ready to draw forever. She also feels happy when feeding squirrels, stroking sausage dogs and eating up cream from cakes.
VIZ Media's Perfect Square imprint focuses on delivering original comics, manga (graphic novels) and other children's books with an emphasis on strong storytelling, eye-popping graphics, empowering themes, and a dash of irreverence, that captures the imagination of a whole new generation.
Additional information on titles published by Perfect Square is available at www.PerfectSquare.com.
For more information on other manga titles from VIZ Media, please visit www.VIZ.com.
About Sanrio
Sanrio is the global lifestyle brand best known for pop icon Hello Kitty, who is celebrating her 40th Anniversary this year. Home to many endearing characters including Chococat, My Melody, Badtz-Maru and Keroppi, Sanrio was founded on the 'small gift, big smile' philosophy – that a small gift can bring happiness and friendship to people of all ages. Since 1960, this philosophy has served as the inspiration for the broad spectrum of unique products and experiences. Today, more than 50,000 Sanrio-branded items are available in over 70 countries and upwards of 15,000 U.S. retail locations including department, specialty, national chain stores and over 80 Sanrio boutiques. For more information please visit www.sanrio.com and www.facebook.com/hellokitty.
Last Updated: August 31, 2023 - 08:12